Adventureman's solo run across America
over 200 solo marathons
Real-life superhero finishes solo 210 marathon – 5,500 mile – run across US for sick kids, raising $200k
Real-life superhero, inspirational speaker and Pride of Britain Award-winner Jamie McDonald, AKA Adventureman, has finished his solo 5,500 mile, 210 marathon coast-to-coast fundraising run across the United States in Gloucester, Massachusetts – after a year on the road.
'Adventureman' has raised nearly $200,000 for sick kids since the start of the run, having set an ambitious $1m target. The adventurer, who has a rare spinal condition that kept him in and out of hospital as a child.
At 4pm (EDT time), fundraising adventurer Jamie McDonald completed a year-long, 5,500 mile solo run across the United States of America. He live-streamed the final six miles on Facebook, joined by hundreds of Gloucester, Massachusetts residents, of all ages – with many donning superhero costumes. Here is the link to the entire live-stream: Facebook Live 
Jamie completed another coast-to-coast run across Canada in 2014, spawning a #1 best-selling travel book and raising more than $500,000.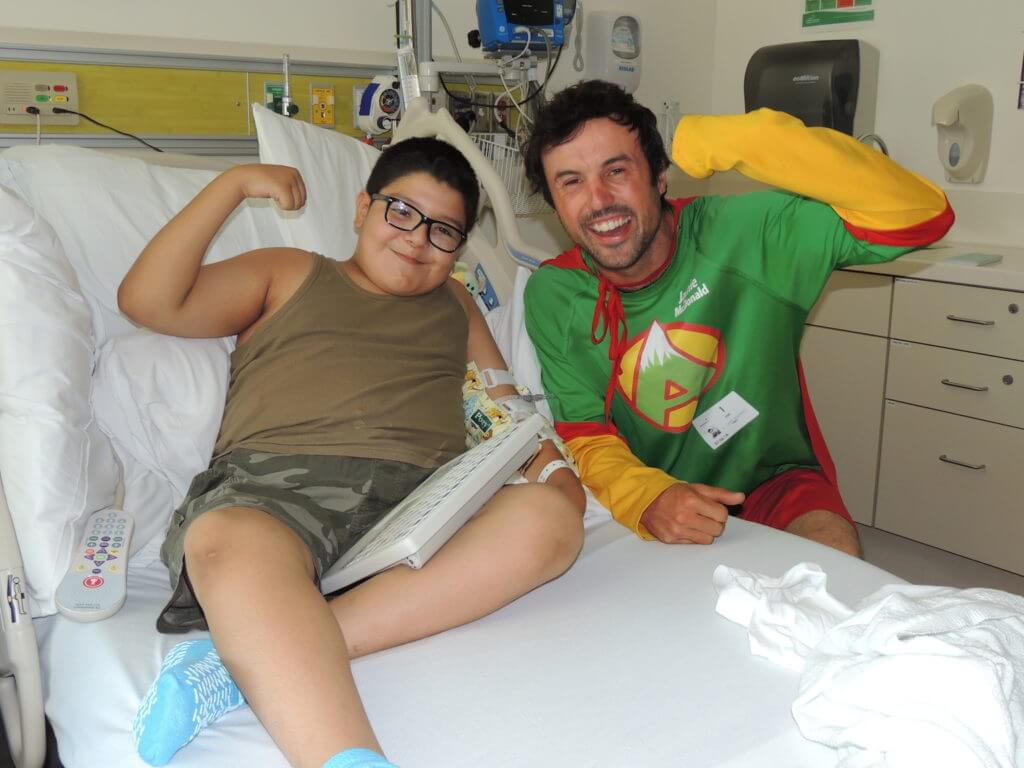 32-year-old Jamie McDonald, from Gloucester, England, spent the first nine years of his life in and out of hospital with a rare spinal condition; syringomyelia. Combined with a very weak immune system and epilepsy, Jamie's health was very poor – his family feared he might lose his mobility altogether. At nine years old, and against the odds, his symptoms eased, allowing Jamie to slowly become more active.
On the 10th April 2018, Jamie began his second coast-to-coast journey solo and without a support crew at the westernmost point of the United States – Cape Alava in Washington. Jamie ran every mile dressed as superhero alter-ego Adventureman, in just one specially-made costume designed by young supporter Conner Reddy, then just 10 years old.
Running through twenty one states, Jamie visited twelve children's hospitals, hoping to inspire people along the way.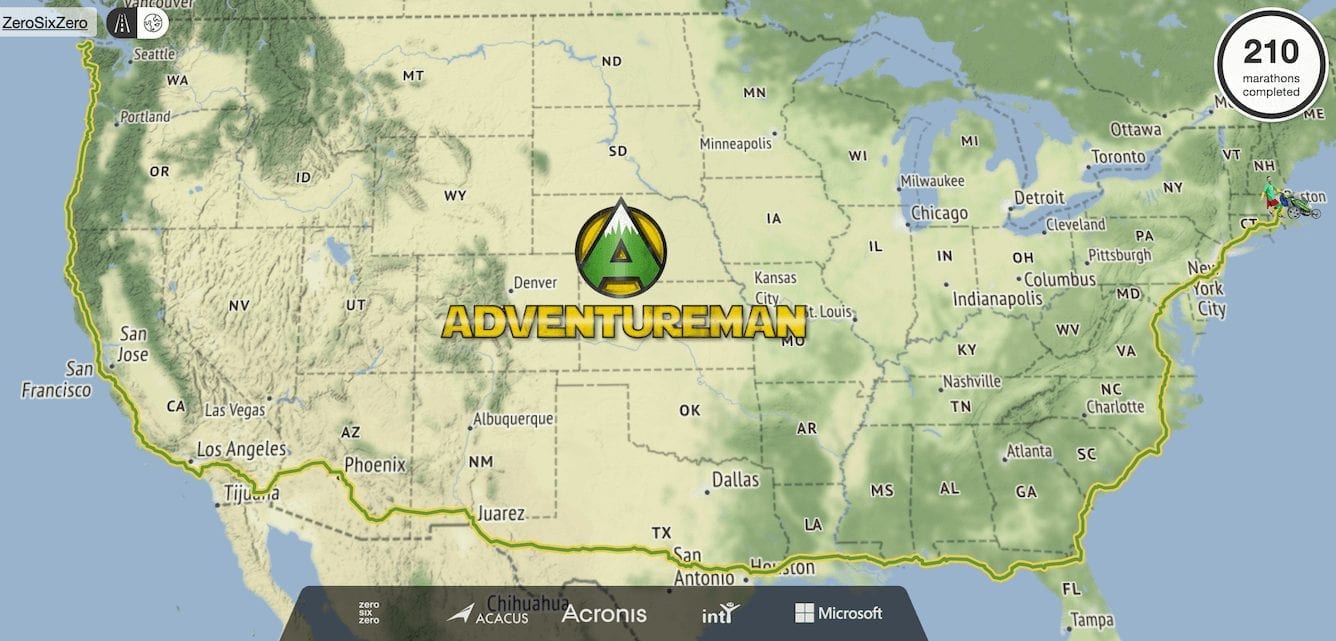 Jamie McDonald said,
"5,500 miles. Two hundred and ten marathons. 11,608,344 steps. One enormous country.
"My body is in pieces. I can feel the aches of every single one of those steps – but I wouldn't change it for the world, and could not be more thankful for the support I've had and continue to receive. People from all over the world joined the incredible people of Gloucester, Massachusetts to celebrate the finish of the run and to be honest, I've been quite emotional since dipping my hand in the Atlantic, a year on from doing the same thing in the Pacific.
"I've run through freezing rainforest downpours and the Arizona desert summer. I've been caught up in a freak flood that devastated a town, camped in places surrounded by bears, cougars, mountain lions, spiders and snakes – if I didn't have video proof even I'm not sure I'd believe me! – and I've listened to some heart-breaking stories from the children and families I've met in the hospitals over the course of the adventure. All I ask is that we all keep believing that we can make the world a better place for sick kids everywhere."
Before the 5,500 mile coast-to-coast US run:
For the last four years, Jamie, now 32, has been working tirelessly to give back. He was named as the Pride of Britain 'Fundraiser of the Year' for the west for his effort, among many other accolades.
In the time since his last adventure, Jamie has co-founded Gloucestershire-based Superhero Foundation, a charity that grants money to families for treatment not otherwise available on the NHS. He has also written the best-selling book 'Adventureman: Anyone Can Be a Superhero', the story of his life to this point – no mean feat for somebody that struggles with dyslexia, and retook his GCSEs aged 23. All proceeds from the book go to charity.
This video tells you more about Jamie: