So, who is the best motivational speaker in the UK? I know you're dying to know!
I don't always agree with everything Google tells me however on this occasion Google threw me some serious credibility… It's true, I'm rated numero uno, the 'Best Motivational Speaker in the UK' – cue jaw drop moment! See image: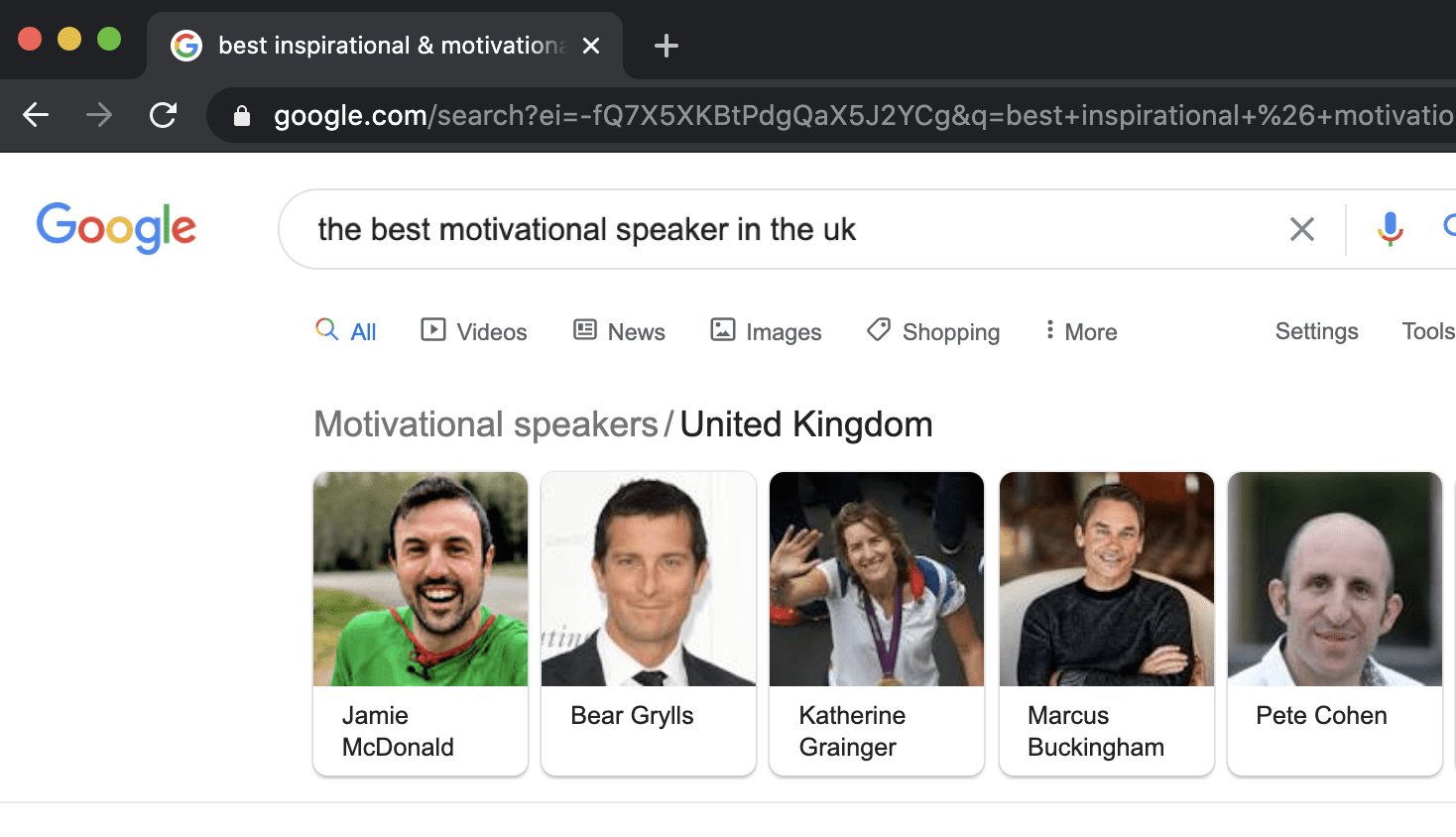 So as I bask in my Google glory, I wanted to look in more detail at who I was keeping company with in the top 10 motivational speakers in the UK and what made these speakers so great at what they do.
I think it's safe to say, that depending on the event theme you have planned and if you used one of these speakers, at the end of the experience you would feel as if you've booked the best motivational speaker in the UK and that's all that matters really.
Anyhow, before I get all nicey nicey, first let me tell you about the number one speaker (as I burst out my uncontrollable evil muahahahaha laugh!)…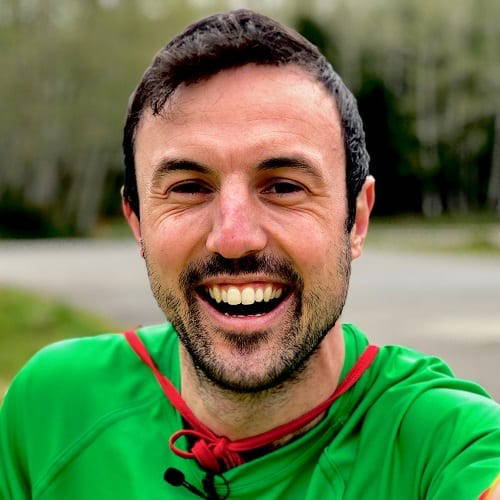 My Story
One of my unique abilities is to keep going, even when times are tough. In fact, since defying the odds to beat a debilitating childhood condition, I've run across some of the largest countries in the world and broken two of the toughest endurance Guinness world records on the planet. One record that was achieved in 7 days, was running more than 20 back-to-back marathons on hardly any sleep.  Yes, I can assure you, I hallucinated a lot and even enjoyed an imaginary Elton John concert for one!   
My mission is all about giving back; raising money to help other sick children and to date I've raised over a millions pounds for charity and was a recent winner on ITV's Pride of Britain.
Why good at speaking?
I'm a really down to earth guy from Gloucester (with an oo'ah West Country accent) that's achieved big, beyond what people thought was possible.  The 'down to earth' bit means anyone and everyone can connect with my story.
At the start of my talk I hit the stage as 'Adventureman', wearing a superhero suit and invite the audience to take the p**s out of me!! So it's full of humour and sets me up nicely to then move the audience to deeply motivating them into thinking bigger and doing more of that in their personal and business life.
I'm all about self-empowerment, the power of positivity and digging deep when the going gets tough.
Watch video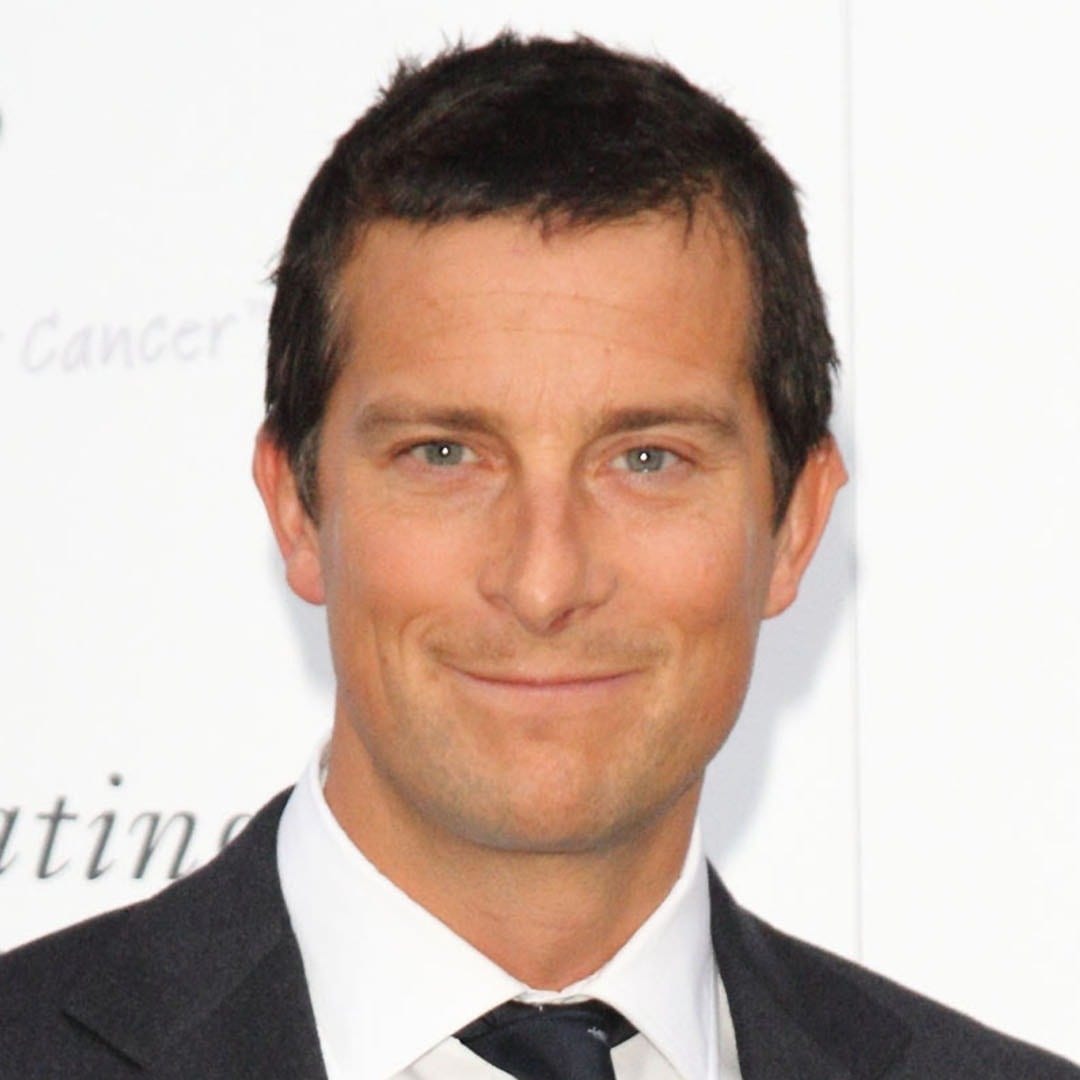 His Story
Who doesn't know Bear Grylls, right? He's the guy who drinks his own wee for fun!
But in all seriousness aside from him being one of the most recognised faces of survival and outdoor adventure, he was previously a member of the British Special Forces, who when he sadly broke his back in a parachute accident, made one of his re-hab goals to climb Everest.  That's next level tough, isn't it?!
Why good at speaking?
Due to his global presence he immediately demands respect from any audience.  His strong environmental message, whilst encouraging people's responsibility for sustainability is an important current topic. You'd pay a high fee for Bear to be at your event but he's definitely a huge contender for the best motivational speaker in the UK.
Bear is honest, professional and leads by example making him a very credible second to my first! (Okay okay, I had to add that in there, that I'm #1 over Bear Grylls, so shoot me!).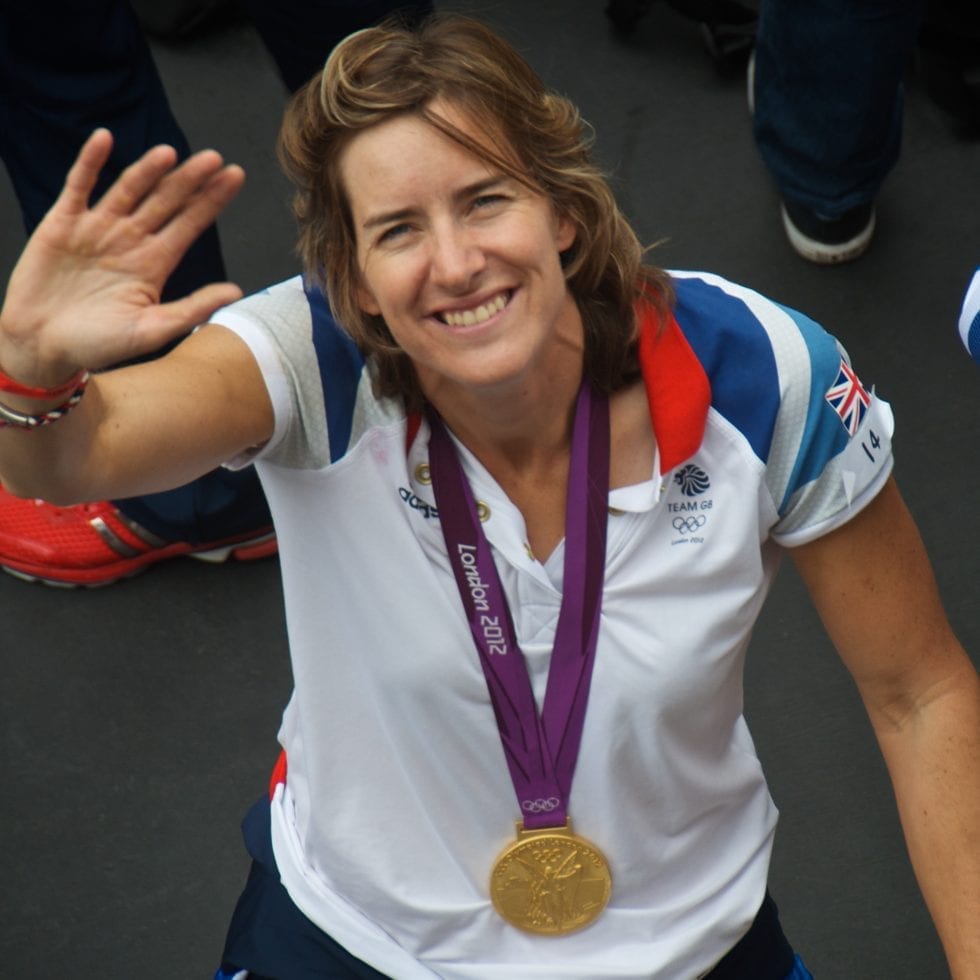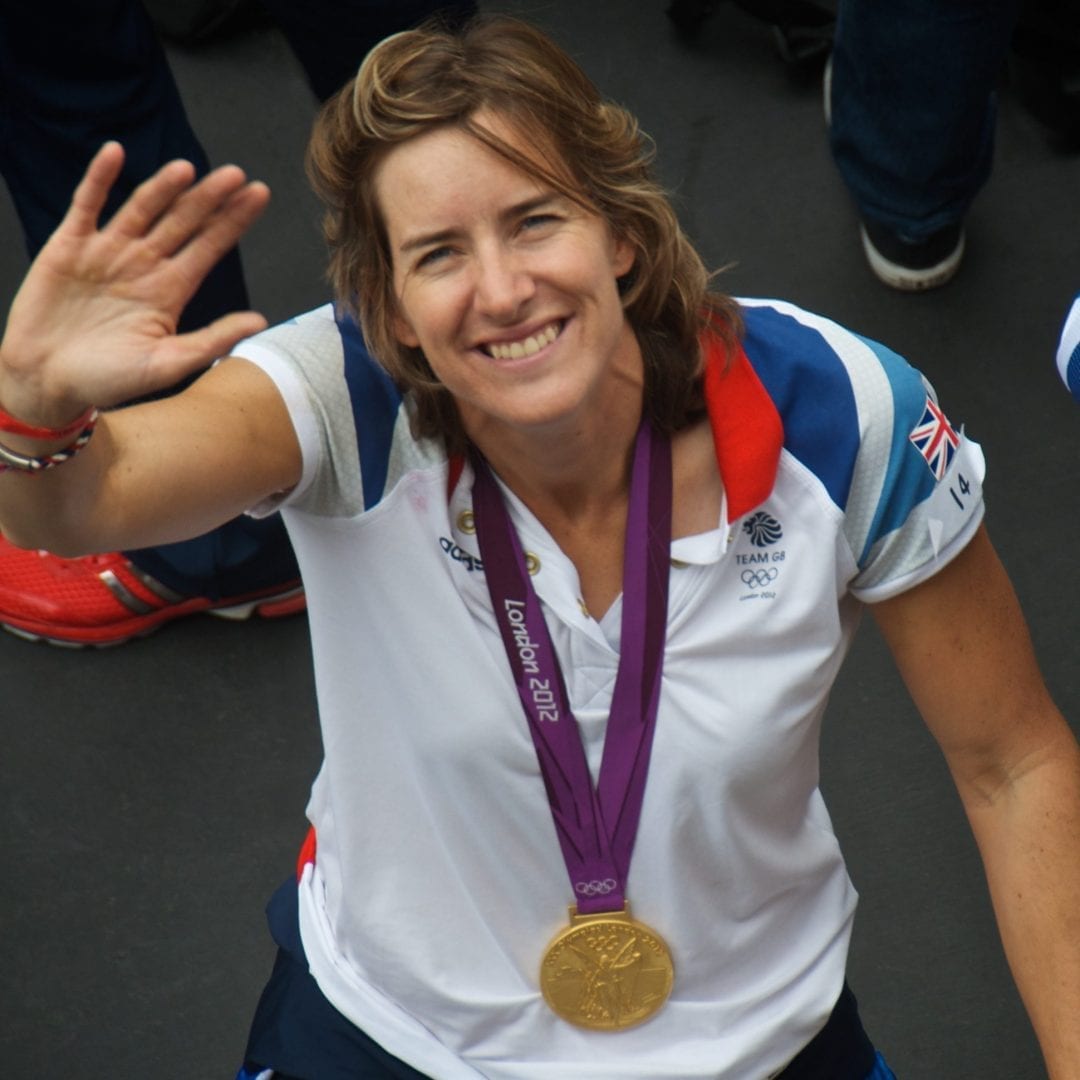 Her Story
Not only is she one of London 2012's memorable stars, Katherine is Britain's most decorated female Olympian, winning medals at 5 consecutive Olympic Games.  Now that's girl power!
Why good at speaking?
Katherine has a warm speaking style, which backed up by her 20yr+ long career as a top rower, makes her one of the most highly regarded personalities in sporting history. Her fierce determination and proven ability to face adversity and challenge, would guarantee a very engaging event, making her one of the best motivational speakers in the UK.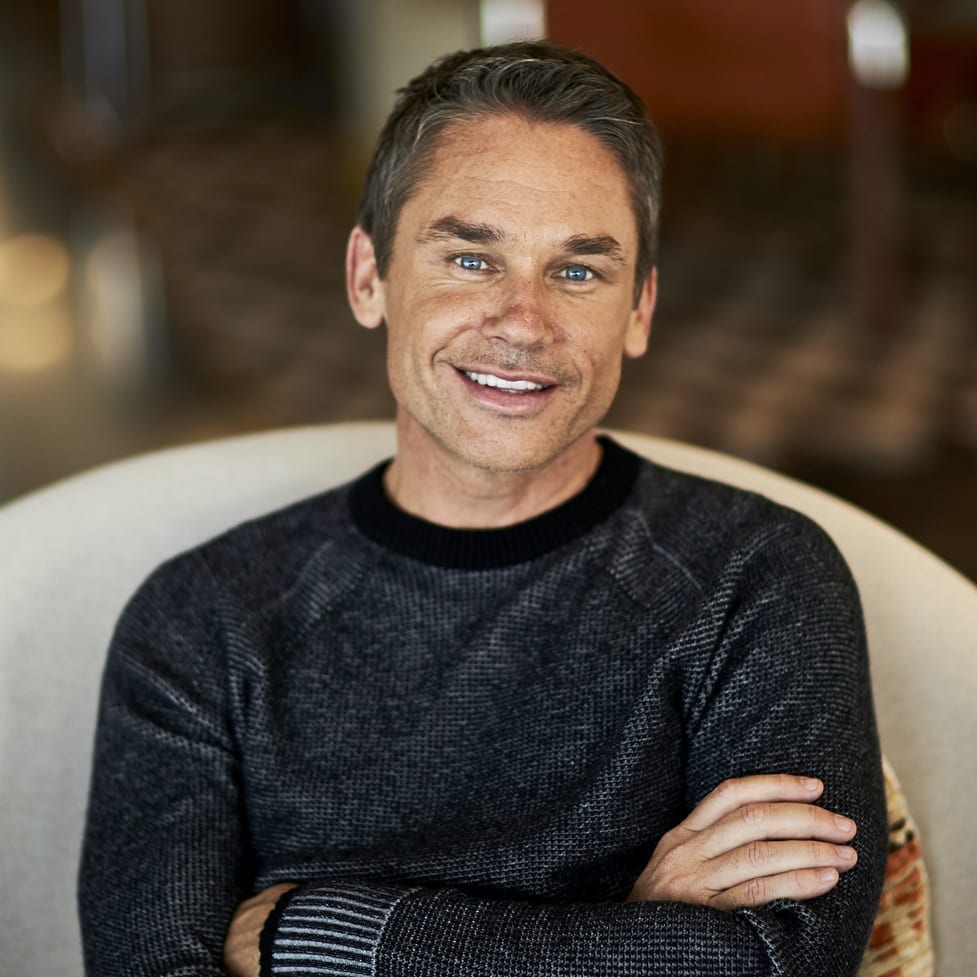 His Story
A former senior scientist and best selling author, Marcus is a leading expert on Talent and Employee Engagement.  He's dedicated himself to understanding what makes world-class managers tick and is right up there as one of the best motivational speakers in the UK.
Bucking the trend, he's also championed a revolutionary concept that people will always be more effective & successful when they play to their strongest skill set, rather than constantly trying to improve their weaknesses. That totally makes sense to me.
Why good at speaking?
Think 'management guru' with a mix of an 'inspirational data geek'!!  His proven performance analyst concept, is compelling and thought provoking.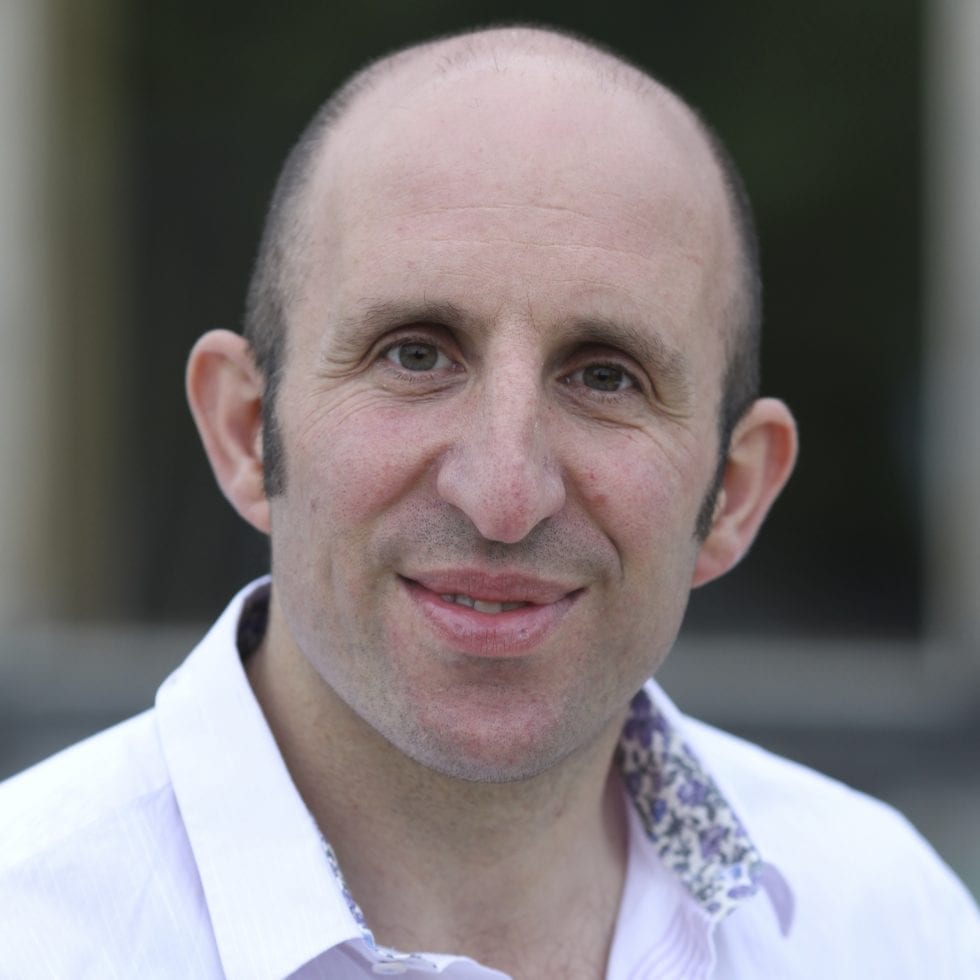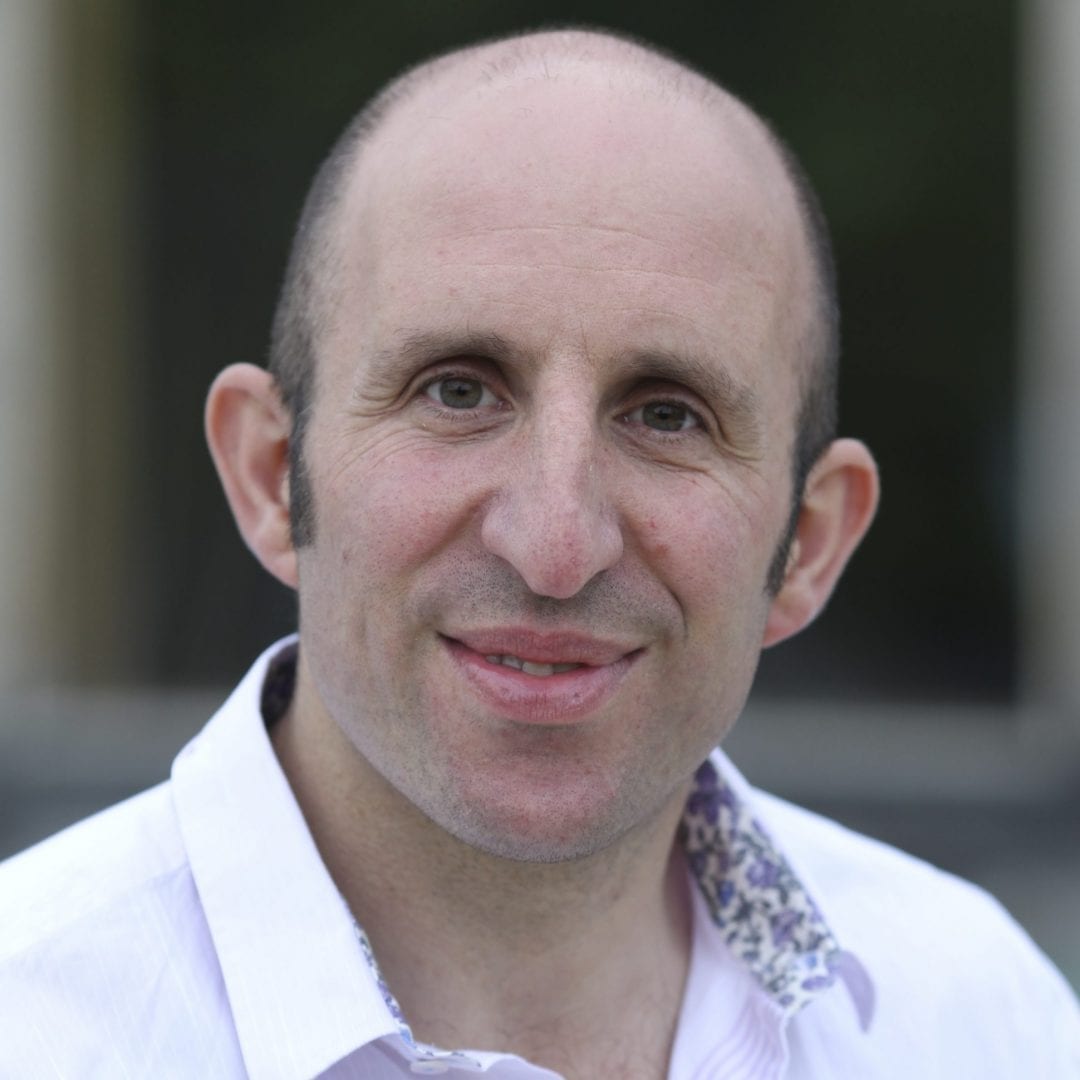 His Story
Pete is all about leadership, teamwork, mindset and motivational progression.
He encourages audiences to reflect on their personal and professional development from a new perspective and has had great success with his mindset techniques, coaching 5 x World Snooker champion Ronnie O'Sullivan prior to his second Masters title.
Why good at speaking?
He creates an impact in his sessions with a long-lasting message. And his infectious enthusiasm and passionate delivery style, make him the great and possibly best motivational speaker in the UK.
We're at the halfway point (take a breath) in the search of the best motivational speaker in the UK, so let's keep exploring. Ready? I hope you're enjoying yourself, here goes…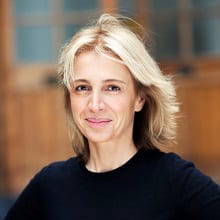 Her Story
Sahar is one of the UK's most inspirational female entrepreneurs.  She believes if you're human, you're an entrepreneur. Which I love!
Amongst other notable business successes, she grew 'Coffee Republic' from scratch to a £30m turnover. Now that takes some serious business savvy!!
Why good at speaking?
Her passion for innovation and change shines through to any audience. She provides tools to the audience to create change for themselves and leaves a strong, long lasting message that we are all responsible for our own success. As a female (which motivational speaking is dominated by mostly men), Sahar could be the best motivational speaker in the UK, for suuuuure! More girl power, oh yeah!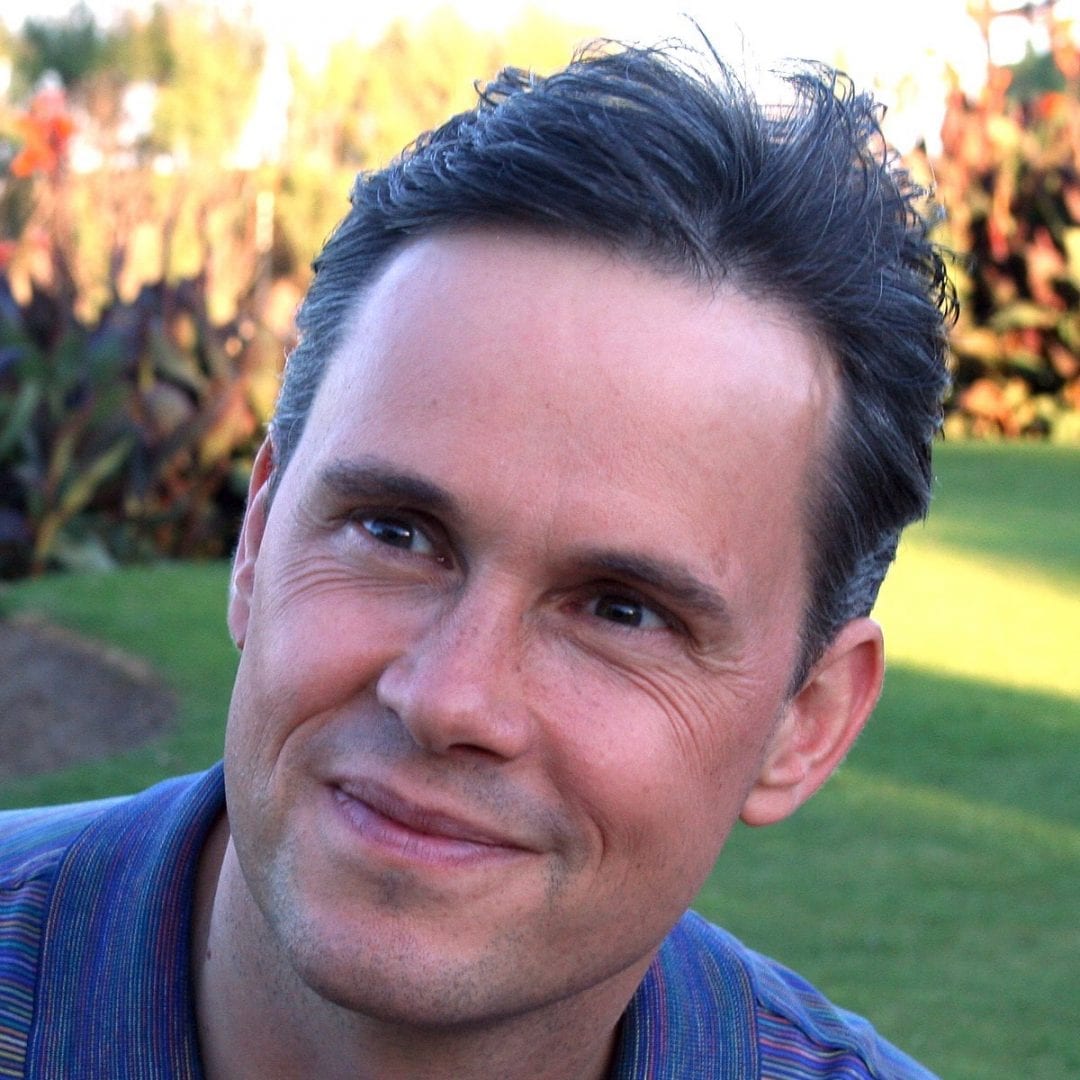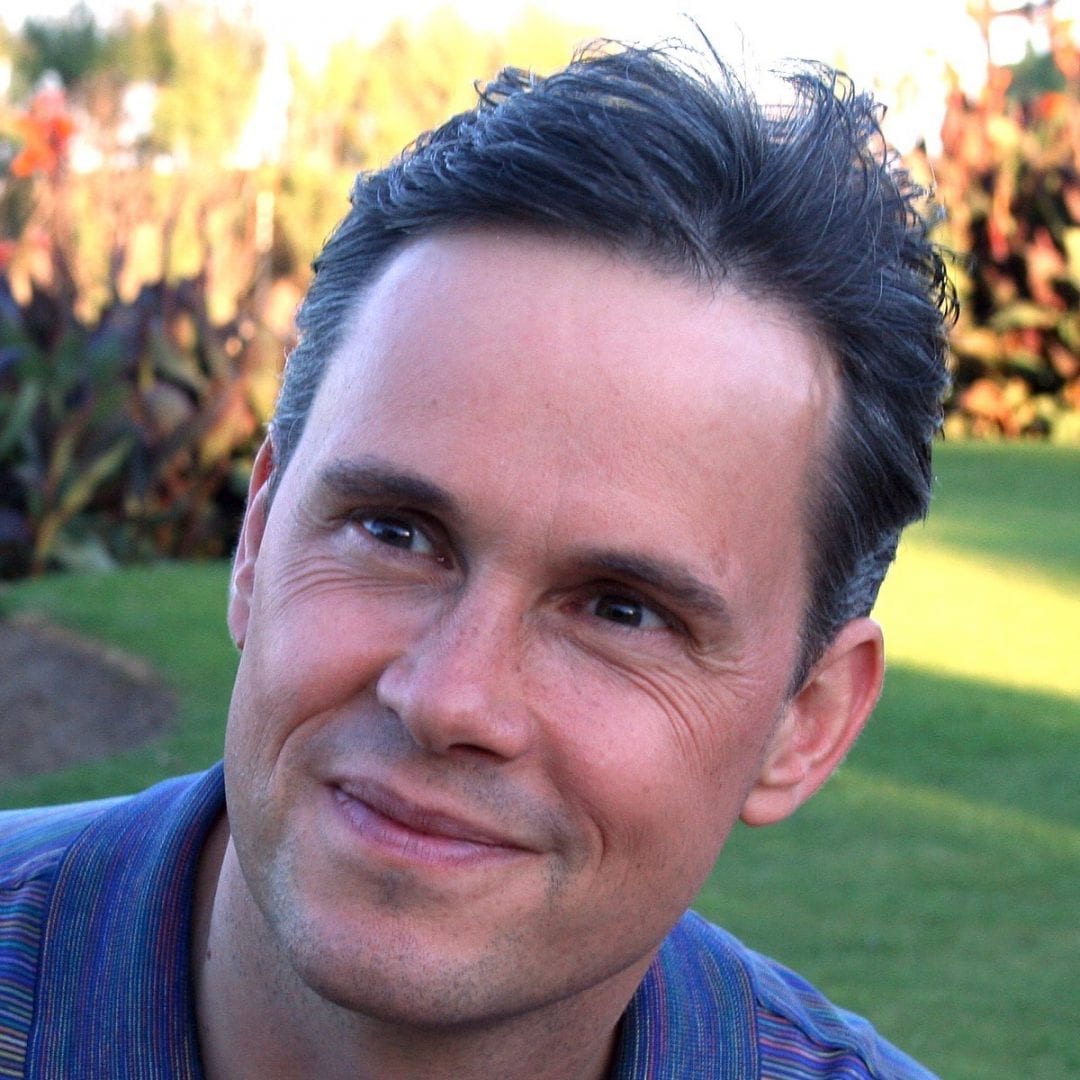 His Story
Dr Robert Holden is a pioneer in the field of positive psychology and personal wellbeing.  He's also the Director/Founder of 'Success Intelligence' and 'The Happiness Project' and his 'I Can Do It' presentations have had great success, particularly in the USA.
Why good at speaking?
He has a captivating manner, that leaves people feeling uplifted. His forward thinking and innovative speaking style ensures his audience glow with positivity, long after the session is finished! Which I think stands him in good stead to be the best motivational speaker in the UK.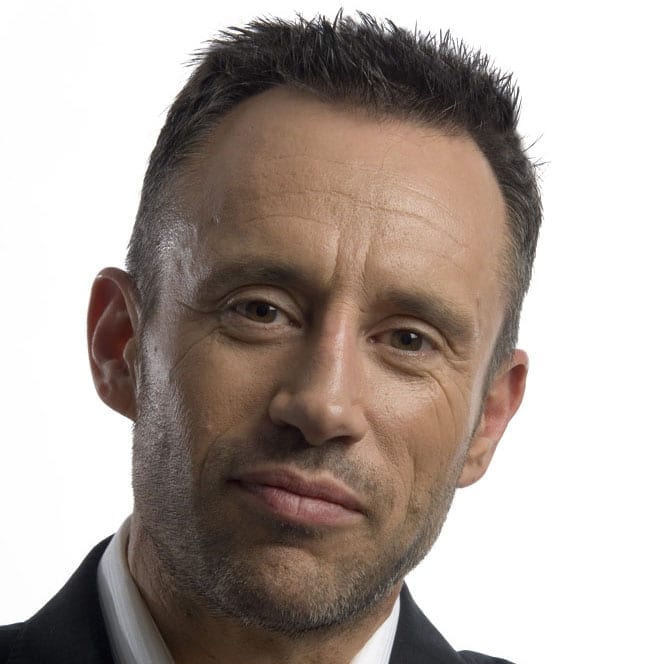 His Story
Not only was Adrian a former British Army Gurkha Officer & Special Forces soldier, he's a record-breaking polar explorer & adventurer who's conquered Everest, K2, the North & South Poles amongst others in the name of 'adventure' achievements! As an adventurer myself, I have total respect for Adrian.
Why good at speaking?
He's a truly inspirational character, with an audience engaging story. His sessions are memorable providing take away values and lessons to use in everyday life. A definite contender to be the best motivational speaker in the UK.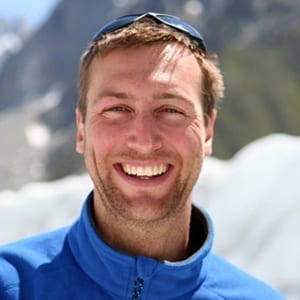 His Story
Tarka's childhood was spent growing up in the French Alps, where he developed a keen passion for adventurous activities too many to mention.  But one of those with key importance, was when he made history completing Scott's iconic 1,795 mile Terra Nova route, pushing himself to the brink of physical and mental endurance.
Why good at speaking?
Who doesn't want to hear from a world class explorer who's pretty savvy with technology, who can enthrall audiences not only with his captivating stories but with incredible video and photo footage too. He's also a very handsome man – at least that's what my lady says, so he gets bonus points for that! So for that, he deserves to be in the running for the accolade to be the best motivational speaker in the UK.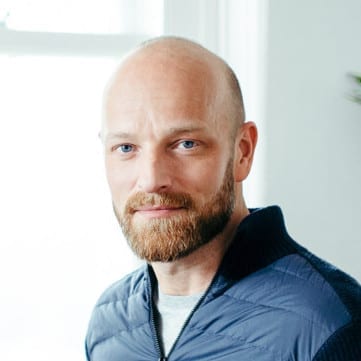 His Story
Ben is a global brand ambassador for a number of noteworthy organisations including for 'The Prince's Trust' and a patron and fellow of 'British Exploring'. He's a record-breaking long distance skier and one of the world's leading polar explorers, breaking records previously held by Scott & Shackleton.
Why good at speaking?
He has a humorous and humbling speaking style that grabs your attention. His stories and achievements are totally compelling, providing top class inspiration for any listener. As well as being very well known for his world-wide TED talks. He's hugely inspirational and any event that books Ben, I'd say they'd feel like they have booked the best motivational speaker in the UK.
Impressive accolades right?  Now you can see why I'm totally over the moon to be heading up this list of fantastic speakers – all legends in their own right.
All of them able to enthuse the most downbeat demeanour with the power of their individual stories and inspire people to become the best versions of themselves….. and we all need a bit of that now and again!
I hope you have enjoyed the 'Best Motivational Speaker in the UK' write up? If you have, please do share it with any of your colleagues that you know maybe interested in booking one of the best motivational speakers for their event.
If you're still unsure which speaker would be the right fit for your event, then I'd highly recommend reading another of my blogs, what to look out for when booking a motivational speaker when searching through Google.
Seriously though, with a bit of thought, time and energy, you can easily book one of the best motivational speakers in the UK. Of course, you could just book me and job done (wink wink).
Watch the Best Motivational Speaker in the UK