Oh, damn that sounds naughty – seriously though, I will get to the 'bush' part, it's not what you think.
A few months ago, I was asked by Capita to speak to over 200 employees, as a celebration for them going the extra mile in the 'customer service' department. Every year they do a 'heroes event' to make those employees feel special.
It's a lovely gesture from the company, and they wanted me to support them as their keynote speaker to enhance the conference experience and ultimately feel good.
Yes, they wanted me rocking up in my Adventureman suit as a surprise for their event (pssshhhh, if I have to dress up as a superhero and all that!).
Arriving in Leeds at the east59 venue, I turned up to check out and it looked magnificent, warm and a spot to have some fuuuuuun.
Though, the part that scared me was the 'bush' on the ceiling…

I noticed that if the employees were at the back of the room, the bush would then cut off the top half of my screen when sharing my pictures and videos to them – basically, my keynote is very visual and if you can't quite see the screen fully, the story line might not quite make sense at the end.
Imagine watching a film and having certain scenes missing? By the time you get to the end of the film you might be like 'what the hell is going on?!'
During set up, the organiser Louise Blamires said, 'sorry Jamie, the bush wasn't here when I first booked the venue.'
Of course, I didn't want to be a bad workman who always blames his tools – and I've worked on enough conferences now to know that as much as you plan, nothing will ever be perfect. Anyway, believe it or not, I kind of like it, it keeps me on my toes and keeps me being challenged for growth.
Mmmm, I'm sure there's some life wisdom that's being spouted off.
As the crowds gathered, I hid behind a curtain and donned my Adventureman suit nervously.
The whole time, everyone was having a few jars and getting merry and I'm certain it had something to do with the venue choice. It had that relaxed feel. It definitely wasn't your ordinary conference.
Plus, they had a bar – so that might have had something to do with the good energy.
As I walked out, the place erupted and the cheering began to another level.
Immediately, I relaxed, and I was off!
Here's a few pictures to show you what happened…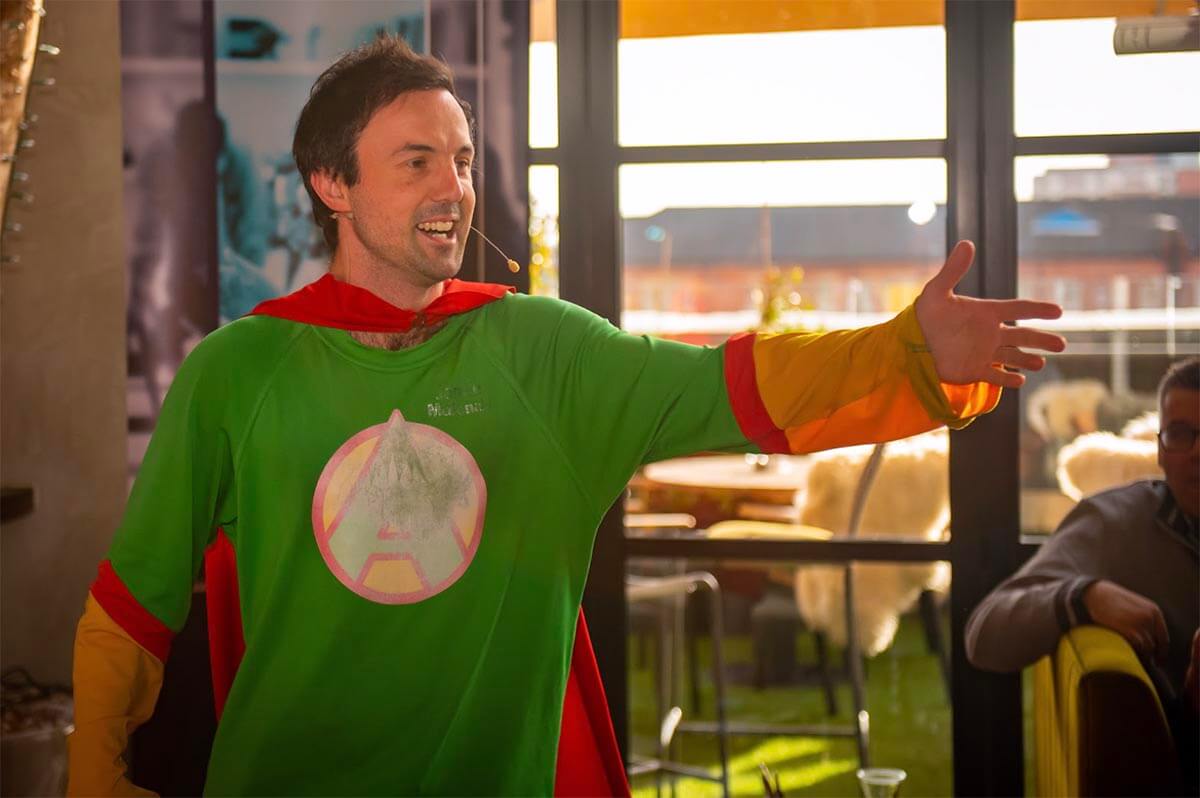 Naturally, I was super serious…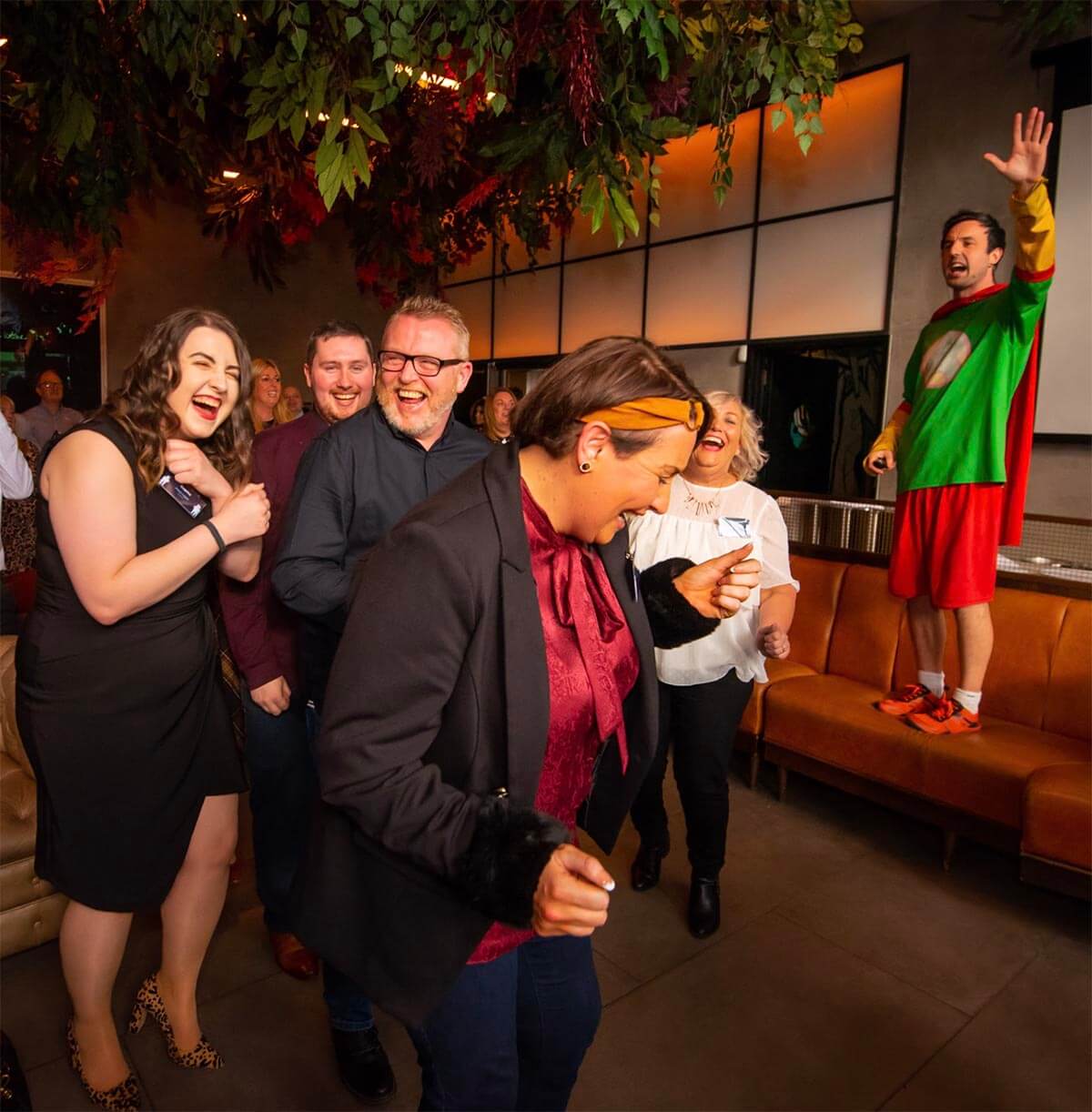 And not monkeying around whatsoever. That's not what us motivational speakers do….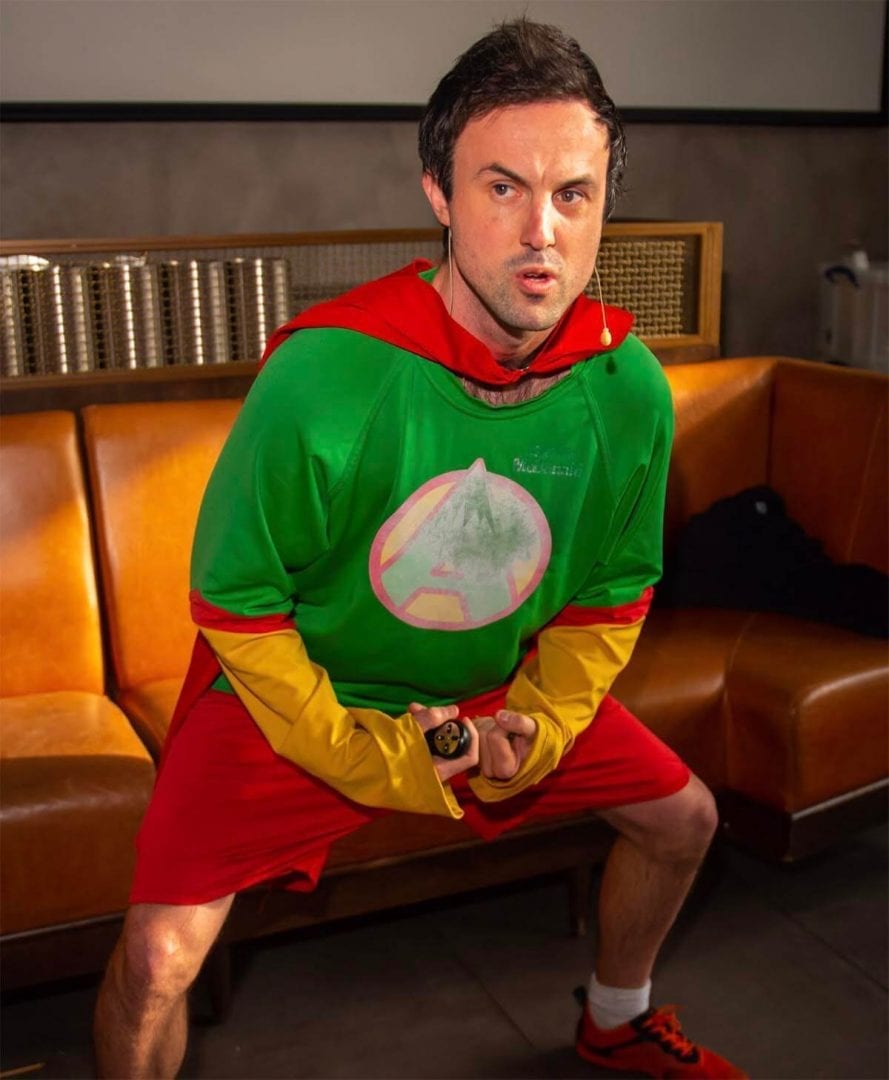 In the end, the bush didn't cause too much drama, I was actually able to explain to people at the back what the story meant even though they couldn't see my pictures….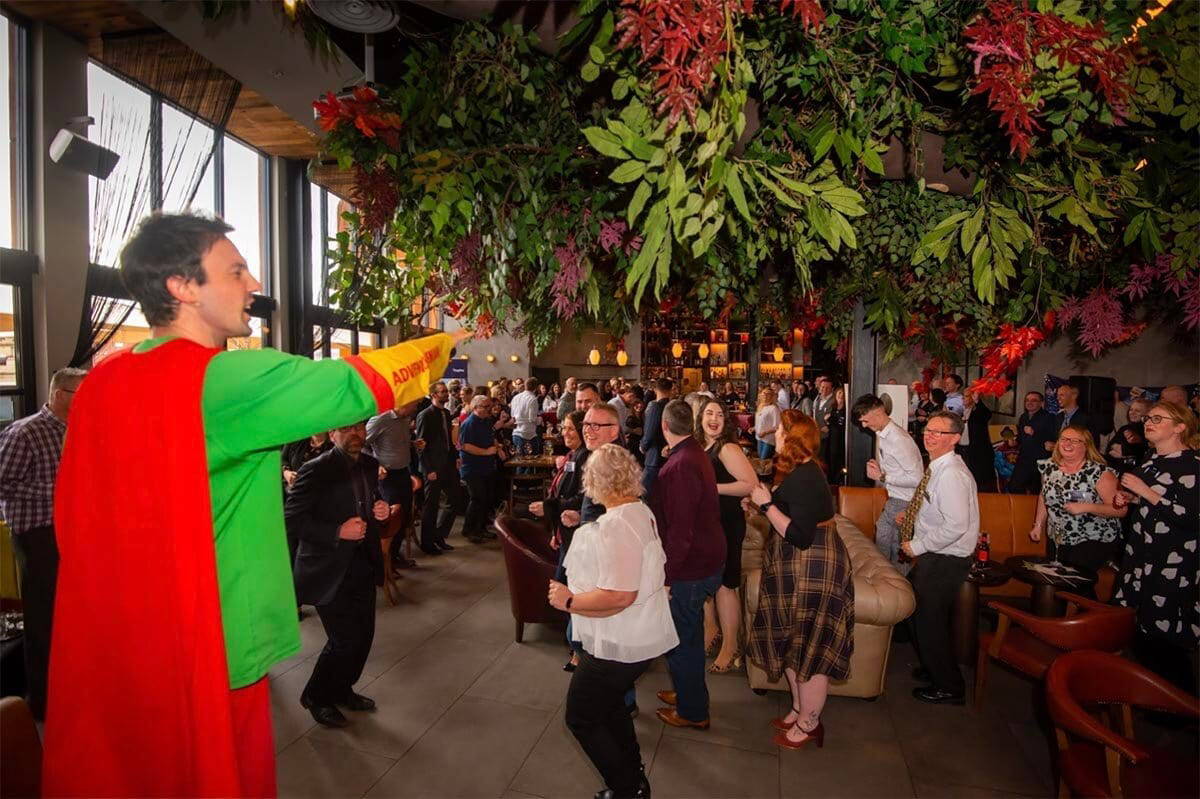 Here's the lovely organiser Louise, trying to keep me on track….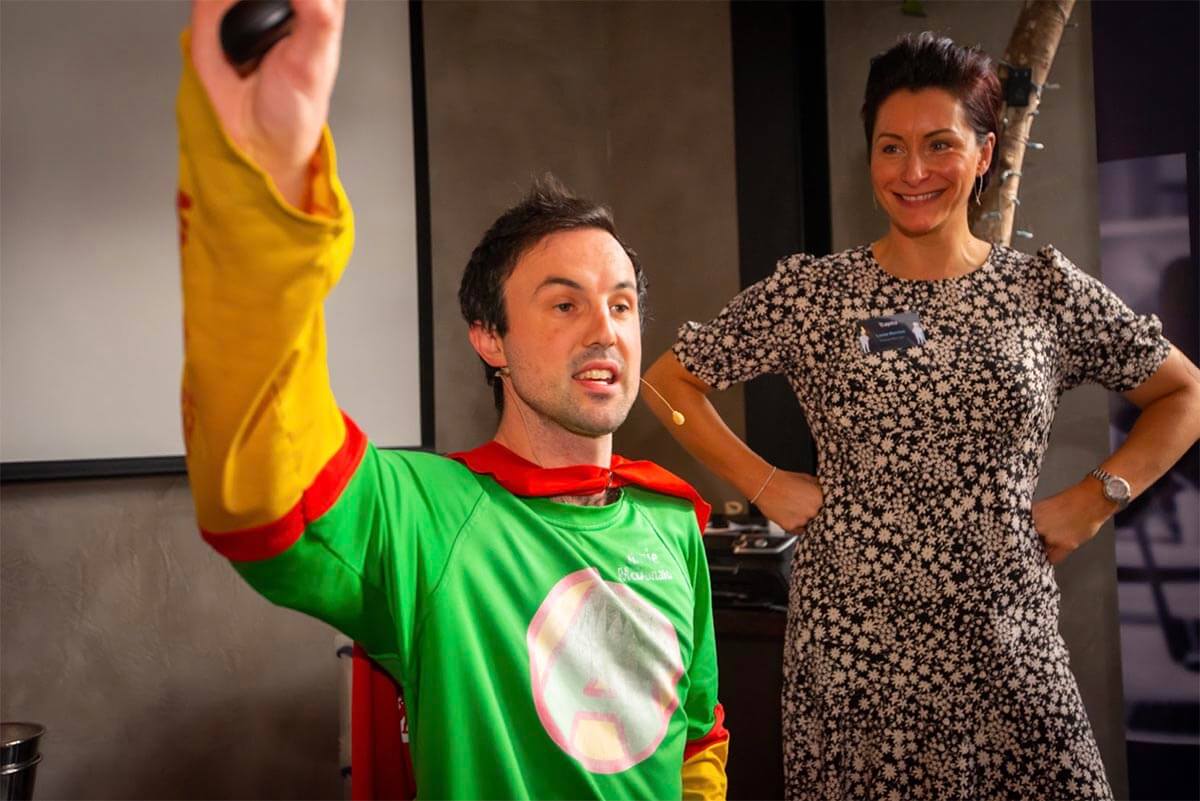 And that she did, so much so that we got a standing ovation. Success! That's when you know you've lifted spirits and touched hearts.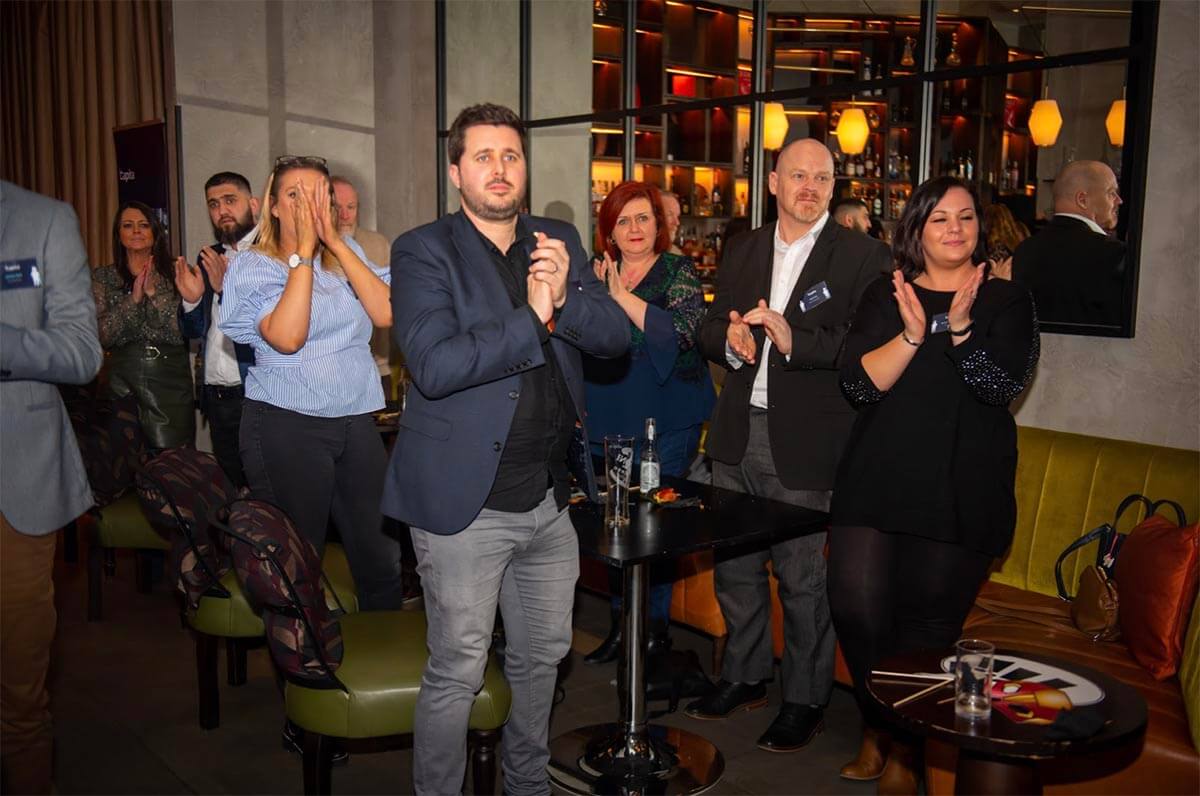 In all seriousness, the energy really was fantastic and it wasn't all down to me, I'm going to give massive credit to Louise, with one of the key factors in her choosing a slightly different venue, but one that felt like a place people could let their hair down (rather than the standard conference feel) and this gave me the best chance to impact lives.
Thank you for reading, if you'd like to book me at your next conference as your keynote speaker, just click here.
Keep smashing life!
Adventureman x