Last week I boarded the plane and set off on a mini adventure to Dubai, I was invited as the closing keynote speaker for a tech company, Travelport. I flew with Emirates and it was AMAZING! So much leg room and all the films I could dream of ready for me to watch.
I touched down in Dubai ready to go – and realised I hadn't even checked if I was being picked up to go to the hotel. Typical me, the best planner in the world! I looked around me at the arrivals gate where there were hundreds of people standing there with signs and I couldn't see one with my name on it!
I thought – right I had better do this systematically. So, I walked slowly from one end to the next staring at all the taxi drivers, one by one. I was getting more and more worried when I couldn't see anyone waiting for me. Then, as I got right to the end, I spotted a chap with a small sign saying 'Caesars Palace.' He looked at me and said, 'Are you Jamie McDonald?' I said yes! I was so relieved, the man laughed at me, obviously.
After finding the taxi man, I got into the very posh Mercedes car and looked out of my window on the way to the hotel – all around me I could see the bright lights of the business buildings and the Ferraris cruising along the roads and I thought what the hell! What am I doing here? I'm being paid well, to fly to Dubai, as a motivational speaker.
As dreams go for motivational speakers, this was up there on cloud nine.
I arrived at Caesars Palace and there was quite a queue to check in. Whilst I was waiting, I had a bit of banter with a South African guy who was part of the conference that I would be speaking at. We wished each other good night when I got to the check in desk and I went off to my luxurious room.
The room was so luxurious that I couldn't find the tv! When I clicked the 'on' button on the remote, my mirror then turned into the tv. No joke.
The next morning after a great night's sleep I was ready to spend the morning on a mini adventure! I ran alongside the beachfront in 40C, so my top came off and I whipped out my chest rug and was loving it in the Dubai sunshine! It was fantastic as I saw all the iconic skyscrapers that make up the Dubai skyline.
After my run, I headed over to have a look at the conference setup and it dawned on me that a roomful of middle eastern men was going to be one of my most challenging audiences yet. The nerves had well and truly started to kick in (it doesn't matter how many times I speak, it's standard that my nerves kick in at some point) and I even found it quite difficult to sleep that night.
The next day, I was ready, with my microphone and I quickly donned my superhero suit. I burst out onto the stage and immediately started to interact with the audience – but I quickly realised that the acoustics in the room were a bit of an issue, so I was struggling to hear anyone. I started to feel even more nervous, and the dreaded sweat appeared on my forehead.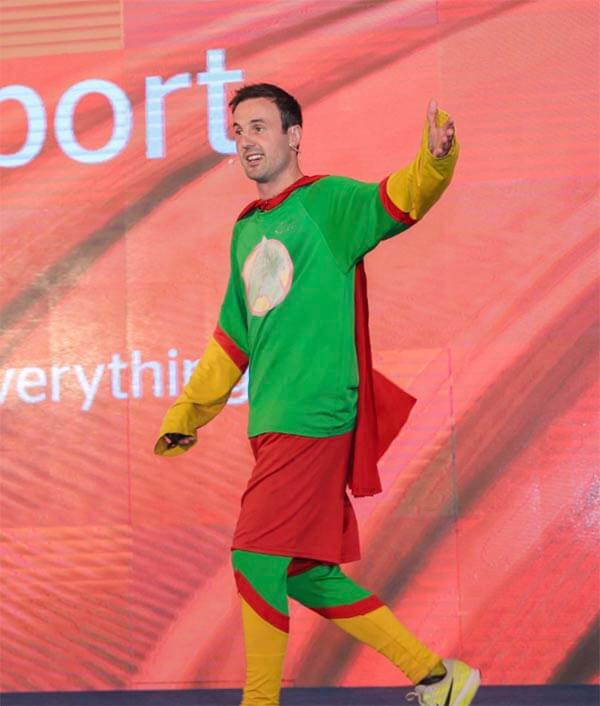 My mouth was getting drier and drier and felt like cotton wool! I went to say the word 'doctor' and found that my tongue was glued to the roof of my mouth and I just couldn't say it. Who knew that you use your tongue so much to say 'doctor'? Try it now, you'll know what I mean?!
I jumped off the stage, looking for the nearest glass of water I could get to – I spotted a glass of water on a table belonging to a Chinese lady – I snatched the glass and downed the lot in front of everyone! The Chinese lady looked at me surprised and said, 'That's my water!' – I gave her an apologetic look, like there is nothing I could do.
With a new and improved mouth, I jumped back up on stage and was now able to speak and shouted out to the audience – 'who knows what we are famous for in Gloucester, in Britain? Though, if you're a Brit you're not allowed to answer this as the answer is too easy!' (I had noticed that there were a few British people there earlier).
Someone shouted out from the audience 'Cheese roll!' I said to him – 'Are you a Brit?' he replied 'Yes', I said 'Well you're an asshole then aren't you?!'
Did I actually say that? Did I just blurt out that someone is an asshole in Dubai? Was that culturally offensive? I began to go into a panic.
Then, out of nowhere there was a tremendous roar of laughter from the audience.
From that moment the atmosphere in the room seemed to change, and I knew I had them. All it needed was someone to break the mould of the conference and be inappropriate (that sounds dodgy, but you know what I mean!).
At one point, I put my slide up on the screen with the photo of me stood by the sign in the Canadian town of 'Dildo', and I said nothing for at least 10 seconds.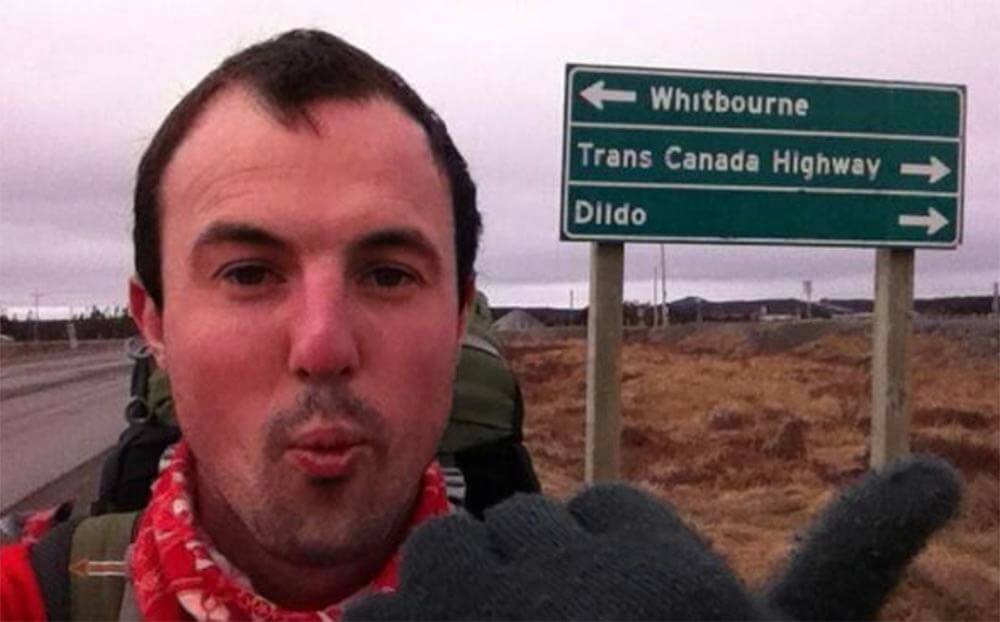 As I walked across the stage – I heard ripples of laughter beginning in the audience, they got louder and louder until the audience were howling with laughter! I then saw an Arabic guy take out his phone to take a picture of me and the Dildo sign.
So, I asked him in front of everyone, 'you taking a picture of that are you?' Then I said 'Is that to send to your wife is it?' he said 'yes, she is going to wonder where the hell I am!'.
As I got nearer to the end of the talk, I could feel the room start to gravitate to each word.
I began asking important questions, 'What's your next adventure? Can you think bigger? Who are the superheroes in your life that will help you through? I found that superhero within me, now go and find it for you.'
As finished off my final word, something happened that I didn't see coming – the claps started and then everyone stood up. A standing ovation in Dubai. I genuinely couldn't believe it.
When I left the room, lots of people were coming over to get pictures. Then, the South African man, Craig Stein who I had met on my arrival at the hotel on my first night, grabbed hold of me and gave me one of those 10 second hugs where you really feel the love.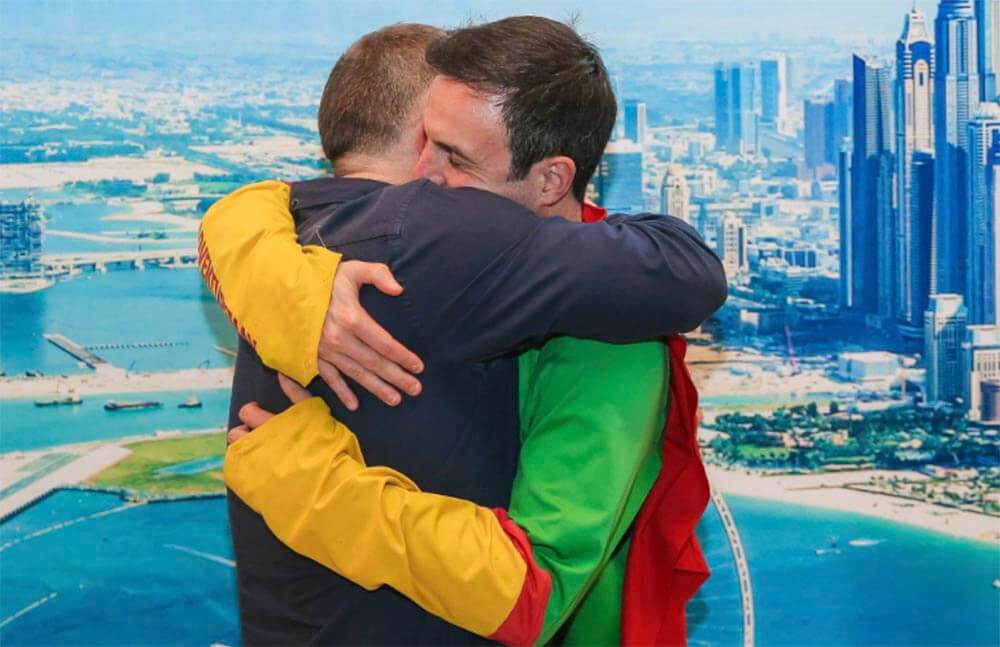 When he let go, he had tears in his eyes. He said 'Man – you got me; you have to come and talk to my people. You are coming. It's happening!'
As a motivational speaker, it really is an adventure, all on its own merit. So, from Dubai to the next adventure, here we come!