Motivational Speaker for Schools
Jamie McDonald motivating students in schools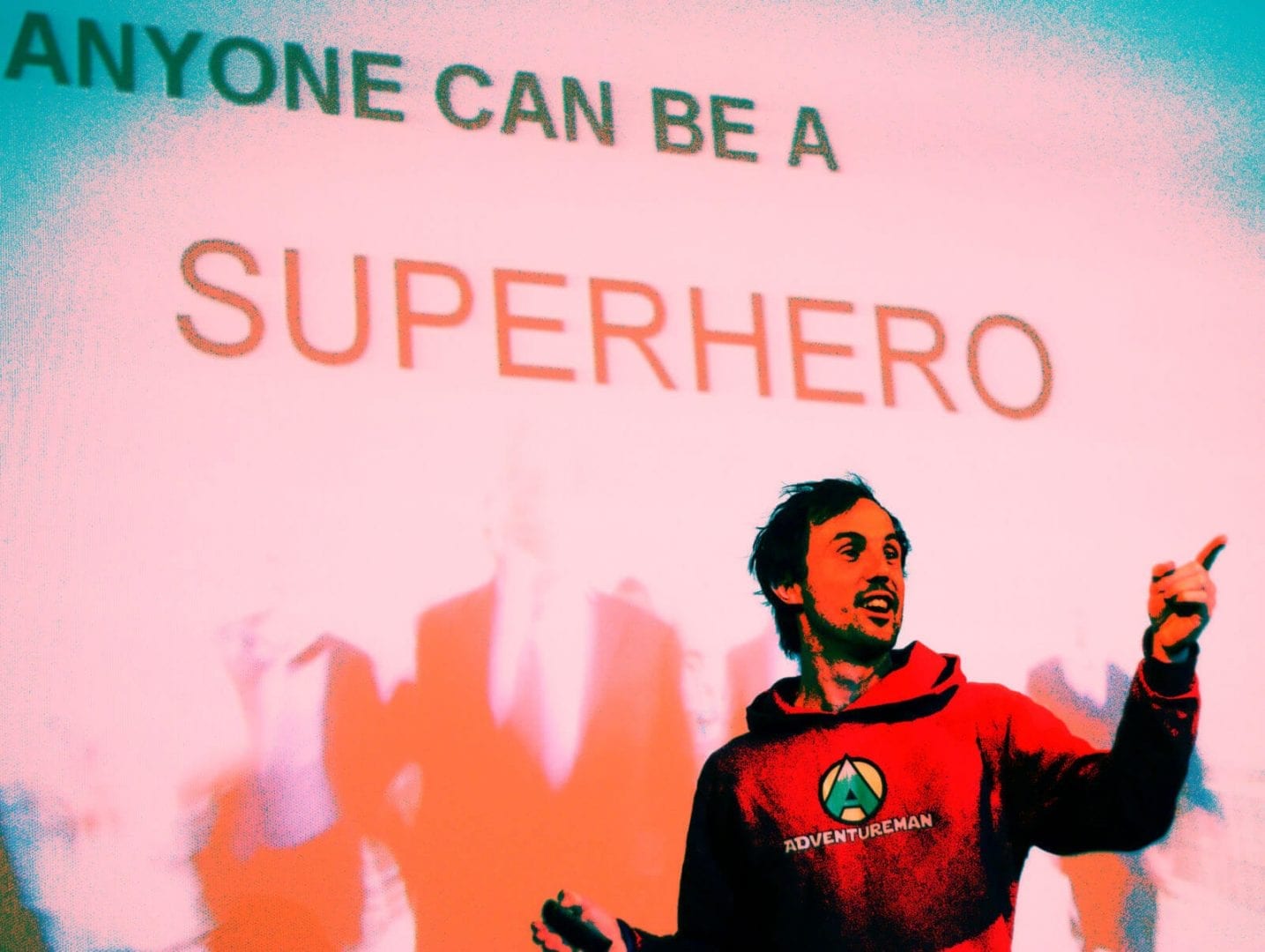 Jamie has delivered talks to thousands of students in Schools, College's and Universities, both in the UK and around the world.
Some of the organisations Jamie has worked with:

Having overcome potentially debilitating and life-threatening illnesses as a child, Jamie arrived at adulthood with a deep sense of gratitude to the specialist doctors, hospitals and nurses who had looked after him as a kid. In a bid to give back to those who cared for him, this 'ordinary' boy from Gloucester began to set himself monumental physical and mental challenges, which took him to far flung corners of the earth…
These challenges included cycling 14,000 miles around the world on a push bike. Breaking one of the toughest and most gruelling endurance Guinness World Records, by cycling for 12 days non-stop on a static bike. And then of course, completing his globally documented 200 marathon solo run across Canada – a feat which raised $500,000 for kids hospitals.
Arduous physical adventures aren't the only challenges Jamie has overcome. As a dyslexia sufferer, he often found negotiating the conventional academic system an uphill battle. And yet, none of this prevented him from becoming a bestselling author, and being awarded with an Honorary Fellowship by the University of Gloucester – the highest accolade the University can bestow.
Jamie's story is one of an ordinary boy finding the willpower to succeed against the odds. He is living proof that we are capable of so much more than we will ever know, and it's this message he hopes to pass on to the next generation of dreamers and doers.
Watch this video of Jamie to see more:
Topics covered in Jamie's Motivational Speaker for Schools event:
Self-empowerment

 – End of year exams can be a challenging time, when the pressure begins to rise, and motivation levels can begin to dip. It's during these testing times that Jamie helps students to realise that the future of their lives is entirely within their control. He excels in lifting their spirits and leaving them feeling energised and excited about their future…

Resilence

 – perhaps your students are struggling through their education and thinking about giving up? After struggling academically as a teenager, Jamie faced up to a fear the he would be labelled 'thick; and at 23 years old, went back to school to retake the GCSE's English exams he failed as a 16 year old. Through authentic examples from adventures and school life, Jamie demonstrates that when you vow to grit your teeth and never, ever give up, that's when truly great things happen. In Jamie's Motivational Speaker for Schools event.

Self-belief

– Jamie's down to earth nature, makes him a very credible and accessible speaker, which students find easy to relate to. In sharing his adventure stories he helps students to understand that no matter who you are or what interests you have in life, everyone has the potential to be extraordinary., Self-belief is the key to thinking bigger, and achieving the impossible.

Making a difference

– Jamie is a firm believer that everyone has the ability to make a lasting impact on the lives of those around them. In short, he believes that that anyone can be a superhero. Having raised over £600,000 (over a million dollars) for charity, he's well placed to talk about impact through fundraising, but he also knows that many great deeds start with simple, humble acts of kindness. By the time the students leave the room, they will feel empowered – in full belief that if they follow their passion, they can be a superhero too.
These are just some example topics, Jamie will work to tailor each talk to the specific needs of your students.
If you would like to book Jamie McDonald's Motivational Speaker for Schools to speak at your School, College, or University, please contact, Victoria Clark via contact@jamiemcdonald.org
Please include as much information as possible, including date(s), estimated audience size, what speakers you've had before, purpose, and any other relevant information.
Skype options available: if time or budget are a challenge for your school, or you would like the chance to speak to Jamie while he's 'on the road' – there are options to deliver an inspiring talk over Skype. Just drop Victoria a line to discuss, at contact@jamiemcdonald.org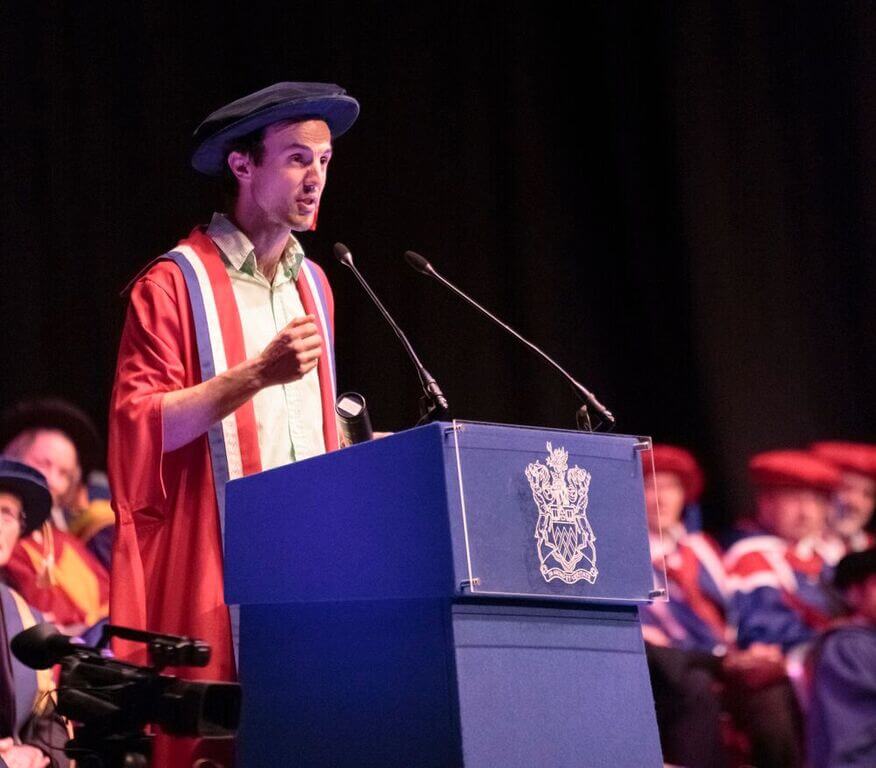 "Jamie has the ability to turn what is an already captivating story, into something inspiring, hilarious, emotional and uplifting – something he achieves by speaking directly from the heart to the students"
University of Creative Arts
"Jamie made me laugh out loud, and made me realise that if we never give up and are willing to try, we can achieve anything"
Ben (Yr 10)
"Not only was I inspired by Jamie's speech but it's given me self-belief that if I follow my passion in what makes me happy, I'll have a bright and fulfilled future ahead"
Alexia (aged 21)
"At our Prize-giving Day, Jamie wowed our audience of 800 people. His messaging of believing that your capable of more was spot on for the whole crowd – from ages 8 to 90 years old. I think the standing ovation at the end said it all." 
Shiplake College
"We know that Terry Fox, my brother, showed determination, commitment, dedication,  mind over matter and you have demonstrated all of these characteristics to the students today. Thank you for showing them that anything is possible"
Terry Fox's School, Canada
"I thought you'd be boring, but you're amazing. Me and my friends are buzzing! We're going to follow you on Instagram!"
Sarah (Yr 7)
"Without a doubt the best speaker we've ever had for aPrize-giving Day. We can't wait to have you back again!
Hartpury College
"We have booked Jamie on numerous occasions as we know that he will always entertain, inspire and educate our kids. Our ethos is 'dare to dream' and he reinforces that with every visit"
Prince William School
"Thank you for bringing the world into our lecture theatre. We'd love to have you back again, and again"
Plymouth University
"An audience of headteachers – he blew us away – we cried one minute and laughed the next"
Independent Schools Association