I'm onto week 8 of my US adventure and this week has been difficult – mainly due to hay fever, oh how I hate it, and tripping over barbed wire, I never said I was graceful! But this week has taught me that maybe I need to reconsider how I'm doing things and I've trialled it this week.
Waking up in the Redcrest Resort on day 51 after yet another monster 10 hour sleep with Lavender Fox, I felt ready like never before.
With such a clear brain from a good sleep, I began one of my morning rituals, blogging.
Writing was easier than it has been – something I've been struggling with all week being sleep deprived.
After blogging, I began running, and I felt relaxed and floated across the ground – all week I've been a little panicky and anxious.
Another emotion was that I felt deeply happy with what I'd achieved so far with all the miles ran so far across (well, down so far!) the U.S. Again, the past week was all me feeling like nothing was ever enough!
Did these two big sleeps with Mr Lavender Fox put my mind in a perfect place? Maybe. I think so.
With a crystal-clear brain, I took the road 'Avenue of the Giants' right off the highway.
It was a hot day, but the giant trees kept me cool in the shade. It was the perfect temperature to run.
Although the trees were giant, with my newfound enthusiasm I felt as strong as the trees. It's like I belonged with them. I sucked up my belly, pulled back my shoulders and ran with a trunk as strong as theirs.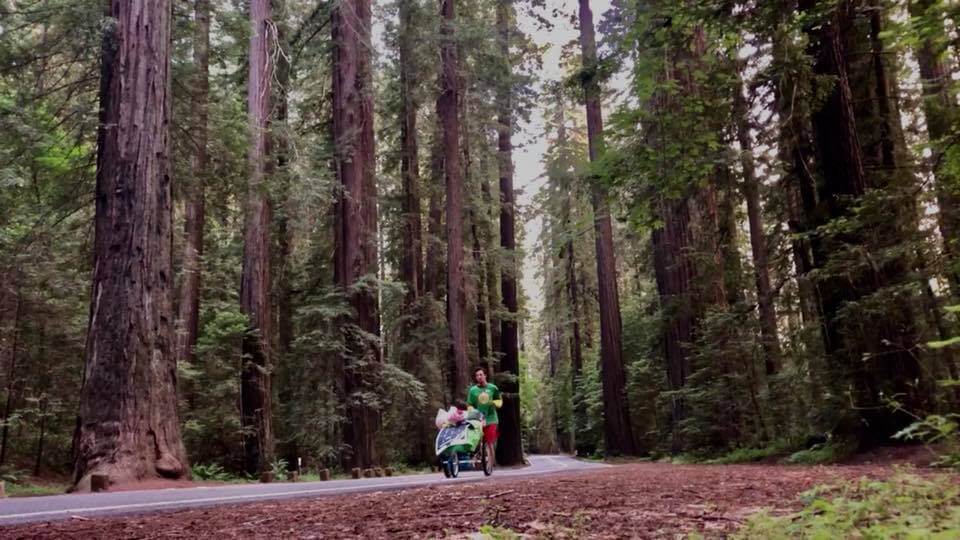 After 19 miles, I landed into the town of Miranda. A population of 300 people.
I smelt food and darted straight for the Avenue Cafe. Whilst eating a meatball Greek salad, a family came over and said hi to me. It was a brief chat about how much we all love sleep (I know, I know, I'll stop soon!), and about their 7-year-old kid who just completed his first 5k run – which is amazing!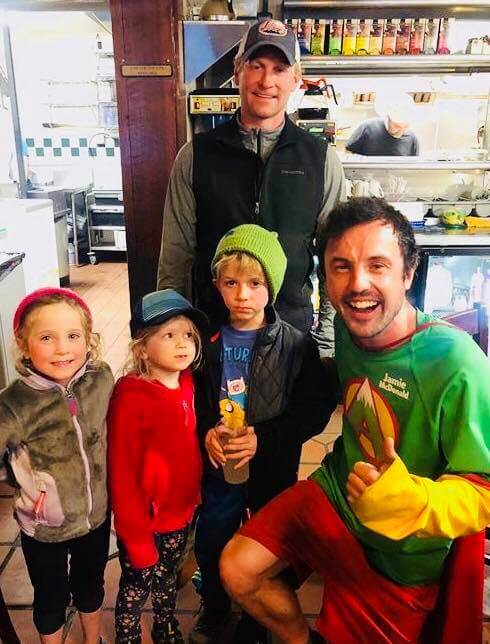 As I went to settle up the bill, it turns out the family brought my dinner when I wasn't looking. Just so lovely!
After eating, I hung out at the bar. I got chatting to a man, I asked him where a good camp spot would be in the area and he said, "it's a bit tough around here, there's a big drug problem in the area and it's not overly safe."
The spot where he recommended was a little too far off route and I wanted to be near this spot for breakfast in the morning.
I left the restaurant to find a camping spot. I knocked on a couple of people's doors, but they seemed really quite fearful of me, so I kept looking.
Eventually though, it was completely dark and I had no choice but to camp in the heart of Miranda. There was a piece of grass next to a coffee stand, so I choose that one.
Once my tent was popped up, I had a lovely surprise visit from Nocona and his two friends.
They were friends of Sylvia's, who I had the trigger point session with. Nocona had brought with him a whole water melon sliced up for me ready to eat.
The boys were great fun, and Nocona is a kettle bell champion, so we chatted lots about the body and how great it is to be strong.
Chatting with the boys, I mentioned the whole drug thing and they said "yeah, this part of California is known for people having huge million dollar set ups to run their drug operations. And to be hidden, it's a great spot of course, because people use the big trees as cover, so no airplanes can look down and see the operations taking place." I don't know how true this is, but I love to learn about the places I travel through. Every place has good and bad, but I've always believed there's more good out there than bad.
Drifting off to sleep, I wondered if anyone would be annoyed with me in the morning camping right in the heart of the town.
Well, while in a deep sleep, the next thing I remember was my tent being shook aggressively and a man's voice shouting, "get out of there. You are not allowed here. GET OUT NOW!"
I was still kind of a sleep, so I shouted out back, "sooooorry."
Then the next words that came out of his mouth put me on edge, "you better be!"
That was it, with those last words I prepared for a fight. I was stark naked (sorry, too much information possibly!) so I put my Adventureman costume on as quickly as possible and didn't want the guy thinking I was hiding in the tent fearfully away from him – so I unzipped.
And… there was no one there. He'd gone. Pheeeew. Adventureman isn't much of a fighter anyway.
After packing up my tent, I walked up to the coffee stall, Sips: Organic Coffee & More, to see two young women but they closed the window on me as I neared. They clearly thought I was a crazy person.
I had to explain, so I continued to walk over. And then I pushed the window open to share why I had to camp on their grass.
I really wanted to buy a coffee as a 'sorry' gesture, but they wouldn't accept my money.
Instead, they brought my coffee and said, "sorry that we thought bad things about you. We normally do get some really strange people sleep around here. Anyhow, the coffee is on us!
After necking the coffee, I had breakfast back at the Avenue Cafe. During my pancake breakfast, I told the story about the man shaking my tent and they seemed to love it and found it hilarious. Right before leaving, my breakfast was paid for by yet another person.
Honestly, it's ridiculous at the minute, I'm struggling to pay for anything and it's pretty tough to accept such incredible kindness.
Whilst trying to film everyone in the cafe for the YouTube series, everyone scarpered as soon as I turned the camera on. It was fairly awkward. Well, I'm pretty used to it now and don't mind when it goes wrong. I just film anyhow. You always have to be brave when grabbing the camera knowing that it could go horribly wrong.
But I do relish the tough challenge of trying to make people relaxed on camera and try to bring the best out of them. I really love it.
A few miles into the run, I had the shakes. My knees shook. My hands shook. I wasn't sure if I overdosed on coffee.
Luckily, I went by a store, bought a tub of peanut butter and a peanut butter Clif bar and rammed it down my throat.
Within a mile of running, I was back into the flow and going strong.
After six miles, I could feel a few tight spots creep back up into my neck but with it being five days now since my trigger point session and massage, it's expected.
By mile 10, I stopped off in Kristal's house for lasagne. Kristal knew Karen and Matthew who I stayed with a few nights before. I love how the connections are really starting to flow.
Before leaving her house, she opened up a drawer – it was a runner's dream. It had every type of snack bar you could think of, but even more amazing than that, chafing cream, which could be handy!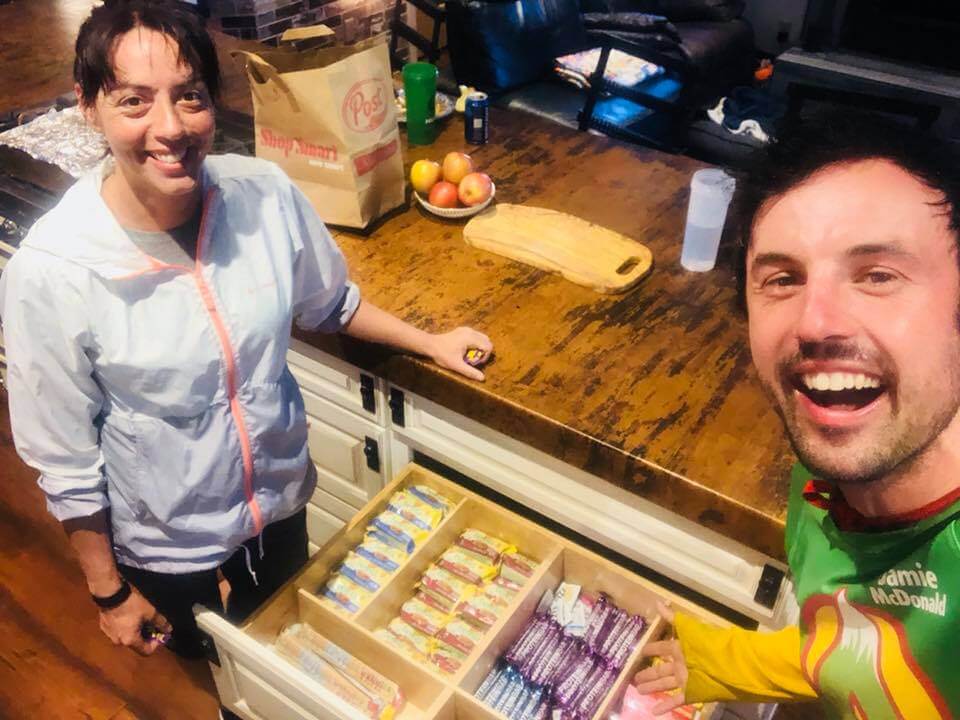 Back on the road running, I continued on pushing Caesar with a newfound belief that I was going to run all the way across the States.
A few hours earlier, I got a message from mama bear Kathy that a long-lost McDonald relative would like to put me up in the Benbow Historic Inn.
After a 17-mile run, I knew it wasn't enough miles for the day, but I had to take the luxury while it was in front of me. And I'll have to worry about making up the miles later on in the journey.
Arriving at my room, it was proper lush. I had my own balcony!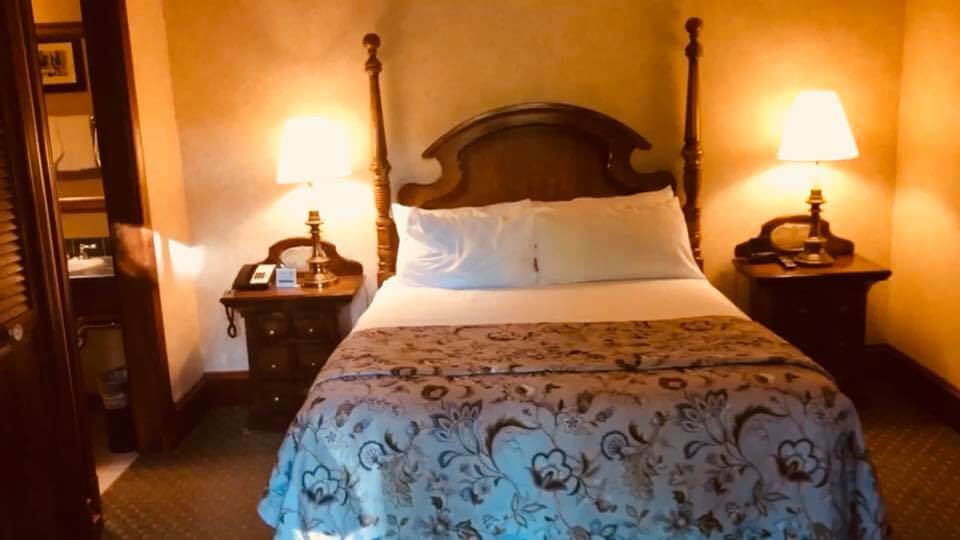 In the evening, I treated myself to dinner too. David, my waiter, started by saying "would you like, tap, pellegrino, perrier, or sparkling water?"
I had no idea what two of the waters were, but I went all out and got the sparkling water!
And then over indulged on the starter Celeriac soup. And for main course, the Kurabuta pork shank. It was amazing!
I know the food will keep me as strong as the Avenue of Giants for tomorrow's run!
Waking up in a Historical Benbow Inn bed the next morning was a delight – I'd slept so well.
After a country breakfast; sausages, eggs, and a lot of coffee, I was ready to hit the road.
At the beginning of the run, there was something different about today, and I couldn't quite put my finger on what it was, then I realised: it was hot! Summertime on the Californian coast has well and truly arrived.
As I ran along a side road, one that was a little quieter than the main highway, I could hear the crickets singing. It reminded me of all the hot places that I've ever been before, those insects singing away in the heat.
Running along, listening to the sound of the insects, my phone rang, and it was my girlfriend Anna. We had the usual kind of catch up, which involves generally chatting about what's happened in each of our days. What we ate for breakfast, what went right, what went wrong, who we met, how much my 'down below' is chafing – you know, the usual etc etc. After hanging up, I thought, 'every time I get a chat with Anna, even though she's miles away I still feel emotionally connected with her. And that's good. Really good.'
A minute later, I got a text from her saying,
"GREAT chats my boy!! You know, one of my big fears about this trip was that I wouldn't be able to share my ups and downs with you, because you have a lot on your plate. But I don't feel like that all. I still feel so very loved and supported by you even though you're running marathons. Relationship skills – NAILED! Pitter patter well my love. Every step is one step closer to the finish line."
It was just lovely to see that message and know that, as bonkers as my life is right now, we're making our relationship work. And work well.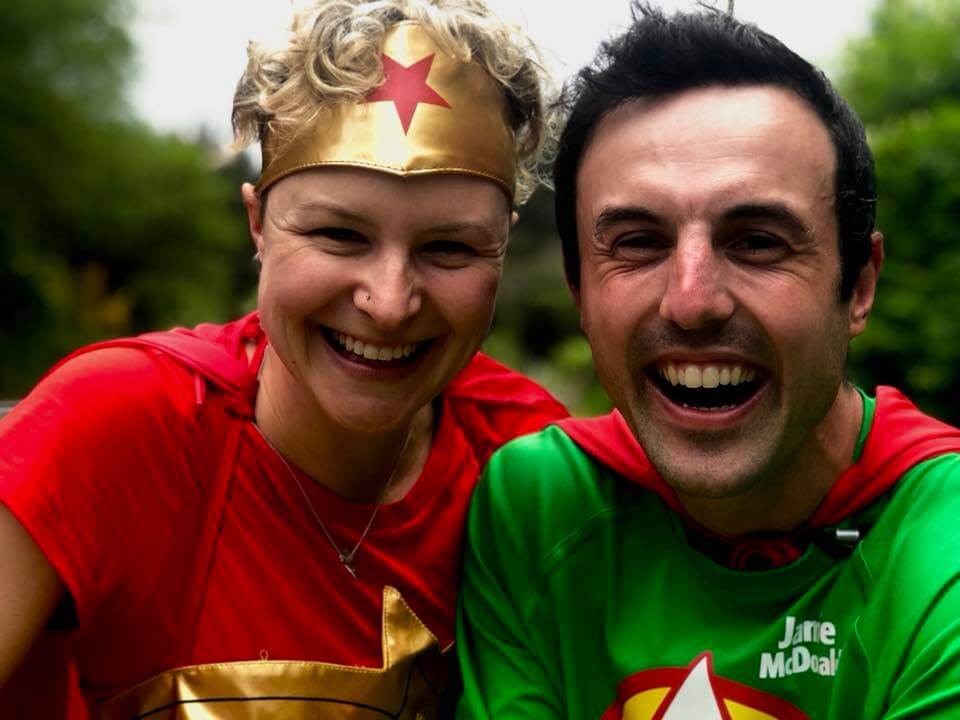 By 4pm I'd run 12 miles and I was skipping along. I watched as the heatwaves rose from the tarmac a mile or so ahead of me, turning the horizon into a blur.
It was still very hot and slightly uncomfortable too. I felt my hair starting to become wet and drips of sweat flow down my back. For the first time on this run, I was SWEATING!
For the past 52 days I haven't really sweated. I've got one of those weird body types that hardly sweats. Anyhow, today, as I licked salt from my face, I felt proud that I had finally sweated. I kind of liked it.
Reaching the end of the run at mile 20, I checked the temperature – It was only 25C (77F), which I couldn't believe because I thought it was way more! Although it's probably because it's so humid and muggy here.
Apparently in the desert where I'm heading in about 6-8 weeks, it's going to be hitting more like 50C + (120F +).
I think it's time to get used to sweating! Seriously though, I'm pretty darn worried and I've had over 100 Americans explain nicely that they think it's going to be a really dangerous place to be running. So I'm not quite sure how I'm going to get across it, but I guess, I'll cross that bridge when I get to it.
After a burger for dinner at The Peg House along with a green salad with feta cheese, I decided that it was time to hit the sack.
Luckily, there was a state park just across the road where I could claim a camp spot for a whopping $5. After a brief chat with some adventure cyclists who had camped nearby, I crawled into my tent and drifted off to the land of nod, wondering whether I'd get the chance to be salty and sweaty again tomorrow.
Getting out of my tent the day after, I headed straight for the water tap to gulp down as much water as I could. I knew it was going to be a hot day.
Bloated on water a couple of miles in, I saw a '175 miles to San Fran' sign. I reckon I'll be there next week. Get in!
After the celebration, a highway patrol man stopped to explain I shouldn't be on the highway, and there's a quieter road to be taken.
As I made my way on the new road, I ran under trees to keep cool but I was still sweating a lot.
To try and stop the sweating, I ripped my Adventureman top and cape off, like the Incredible Hulk. Well, not really. My upper body is getting pretty thin and Mo Farrah-like now, but it was a nice thought! It really did feel amazing and stopped the sweating.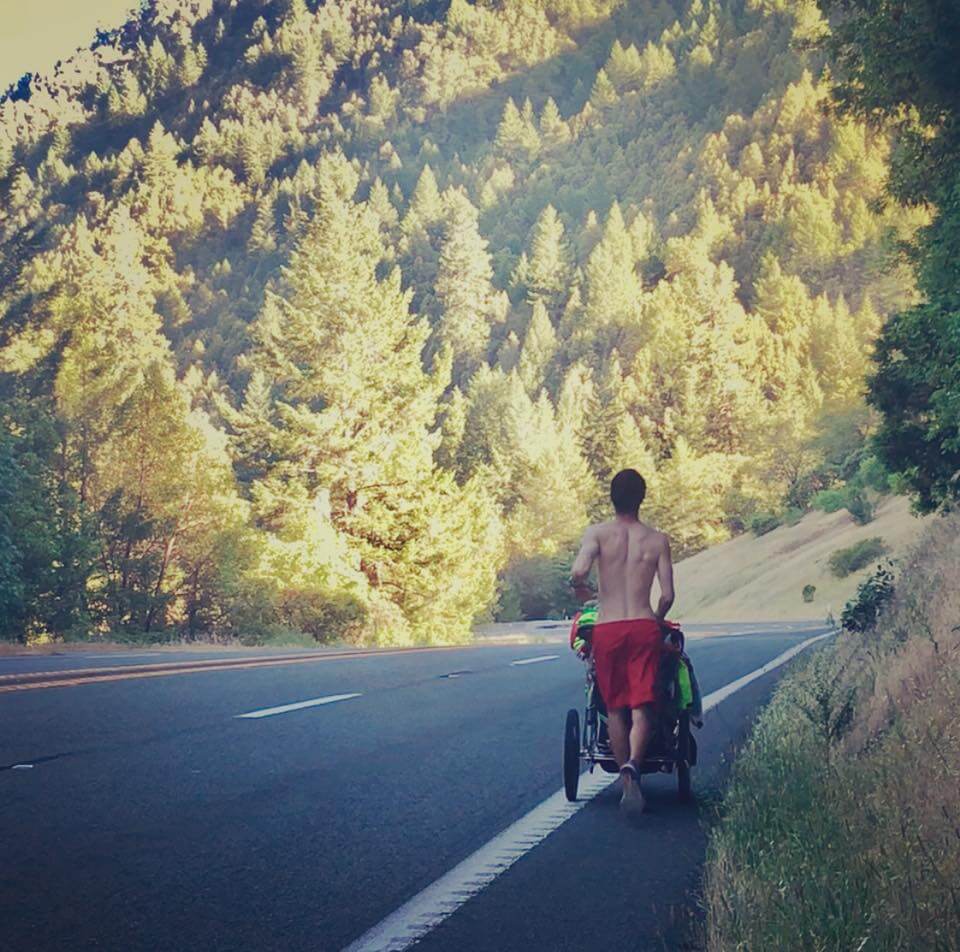 The road was pretty untouched too. I could see geckos running across the road and as I neared them, they'd scarper away. Birds flying everywhere. Butterflies dancing. It was packed with insects and I loved it, but then I saw a big brown furry animal face down in the forest, surrounded by blood.
Vultures flew away from the animal once they spotted me.
It was a bear. I had no idea what happened. Maybe he'd been hit by a car or something? Not that I'm an expert but the body seemed fresh.
Though I'm not overly keen to see bears as I'm (healthily!) scared of them, I felt pretty sad seeing it. They must be so rare. It was horrible.
Trying to get the bear out of my mind, after 11 miles, I stopped for lunch. I scoffed down tinned fish, nuts and peanut butter – lots of it! The normal staple diet of Irish butter was now melted and mouldy from the heat.
So, my diet will now have to consist of peanut butter to get my fat source. Such a shame.
After scoffing down the food I realised I had no phone signal. I wanted to chat to Anna. My parents. Or my friend Rich. I was craving signal and a chat.
So instead of taking a few hours off as a break as I normally would, I cracked on running.
It was now 1pm, right in the middle of the hottest part of the day. I didn't care. I just wanted signal. So I ran checking my phone every minute. But nothing!
By mile 18, it was 27C (80F). My engine felt like an overheated car engine. It was going to boil over and pop any minute.
My head was pounding. My lips were dry. My breathing was so heavy. My legs were on fire.
Then, I spotted a river in the distance and animal instincts came over me and I ran to it, leaving Caesar on the highway.
At the river, I stripped off my costume and then led on my front in the ice-cold water. I dunked my head in for 30 seconds while holding my breath.
OH MY it felt AMAZING. Immediately I felt my body cool down.
All fresh and ready to run again, whilst walking through thick bush back to Caesar, my leg caught on something. I went head over tit and felt my leg rip on something.
I let out a big SCCCRREEAAMM.
I wasn't sure what happened, but I was seriously worried I'd torn my leg open. I looked down and realised I'd tripped on barbed wire. I scanned all my legs and luckily there was just one small punctured hole in my leg.
Blood rushed out of it, but all I cared about were questions like, 'how deep is that hole? Has it ripped anything important? Is this the end of the run?'
Getting out of the thick bush, I hobbled, then I walked, then I ran.
That's all I cared about – that I could run!
After 24 miles, I finally hit signal, but it was too late to call anyone at that point with the time difference in the UK.
Mileage wise, it was probably one of my biggest days so far, but I couldn't help but think it was stupid to run right the way through the hottest part of the day like that.
I suffered badly and potentially put the whole run at risk by ripping my leg open. Lesson learned! Maybe I need to suffer to not do it again. Well… maybe a couple of lessons will do it.
After the beating the day before; being cut on barbed wire and running in the hottest part of the day, I knew something had to change.
Waking up, I headed over to the Wheels Cafe & Pub to hang out in an air-conditioned room, to eat and let the day heat of the day pass by.
At 3:30pm, it started to cool off a little, so I began my usual stretching routine.
All limbered up, I began to run, and my legs felt incredible.
It's the first time in over 30 days that I've given my legs a day off (well, not quite a day off, but normally I'm running by 9am and now it was 4pm, so let's call it a 'feels like' day off!).
Within a mile I was too hot, so I stood under a tree for a few minutes just to cool off. Then, continued on running. And repeated this a few times.
As it got cooler and the sun dropped lower, I got more and more shade from the trees and I just ran harder.
It was amazing to feel the cool breeze.
After 10 miles, I received a Facebook message from a Canadian follower, Rick Fall, who wanted to put me up in a hotel for the night 12 miles ahead of my route.
So I sent an audio message back to Rick saying 'yyyeeessss please!' I could have snapped his arm off if he was physically next to me.
During my book tour six months ago in Canada, Rick opened up to me on his future dream to run across Canada from Thunder Bay to Vancouver and to continue Terry Fox's footsteps. I couldn't think of a better person to do this.
After leaving Rick a message and knowing there was room for the night ahead of me, I continued running hard.
Running at that time of day (with it being cooler) I was beating the sun and beating nature – and that was to be celebrated in feeling goooood and running like a beast.
Although, it was still fairly hot, so I had my Adventureman top off to stop me from sweating.
With my top off, I felt like an animal. A ferocious animal!!!
That's when I heard a noise, a big leap from the woods from a dainty deer (it must have heard me coming) and I let out a huge 'ahhhh' with a squeaky voice like I was going to die and be eaten by a bear!
I couldn't help but think after this, 'you're just soooo damn ferocious, aren't you?'
Whilst pushing Caesar, I had to ramp one of his wheels up a curb and run with him for about 100 metres and push it along, I suddenly realised with a higher handle bar on, I didn't need to tilt my body to the side anymore.
A month ago, Anna said that I run slightly tilted and wonky. So putting the evidence together, this makes perfect sense!
Though, it's not urgent to get a higher handle bar, but after running 12 million steps (apparently that's how many steps I'm going to have to do to run all the way across the U.S), I'd imagine running a little wonky, I might end up looking like the Hunchback of Notre Dame at the end of it all.
At mile 17, my legs started to fade, especially hitting a big mountain and I had to stop every two minutes to catch my breath.
Feeling frustrated (I hate not feeling strong enough!), I pulled out my bag of goodies and spotted a chocolate protein bar and a jar of honey.
So I rammed the bar into my mouth, tilted my head back and began to pour the honey.
The honey was pretty solid but I tilted it upside down and huge lump gradually slithered into the back of my throat.
The energy was so immediate, it was like I injected the honey into my blood stream.
All fired up, I hauled Caesar right over the mountain and made my way down to the town of Willits to stop at the hotel for a comfy bed for the night.
I started running at 4pm the day after. Things had cooled down a little, which was nice but there was just nothing in my legs. No bounce. No pitty patter. No… nothing. So I just decided that I'd keep dragging them around and that they would keep moving – and they did.
I'm not sure if it's only a saying in the English language (as opposed to American or Canadian English), but in Eng-er-land – we have a saying, when you're finding something tough, but you just keep going, we call it 'dogging it out'.
While dogging it out, my cape kept blowing around the front of my body, which was doing my head in. And when you're dogging it out, the little things irritate you so much more. Small irritations are doubled when you're doggin' it.
After repeatedly swiping my cape away from my face, I decided that it was time to pull out my secret weapon: Spotify. The first playlist that popped up on the phone was, 'Best of British', so I clicked on it.
The first tune on the list was, 'I can't get noooo…. (dun dun da) Saa-tis-fac-tion' by Rolling Stones – which was so fitting for the mood that I was in and put a huge smile on my face.
By mile 11 it started to get dark and the highway opened out into four lanes of traffic. Suddenly, blue flashing lights were flashing out of the darkness and a cop car appeared. A police man got out of the car and said, "stay where you are! Don't move!"
I froze solid. It was a moment that I've seen on the tv once before, some American cop series where they think the other guy might have a gun. I was that guy. So I opened up my arms and said, "officer, there's nothing to be worried about."
The copper then said very seriously, "we've had a call that there's a crazy person running down the highway, wearing a cape, pushing a baby with him. That's you, yeah?"
I couldn't help but burst into laughter. But he wasn't laughing much.
Then I quickly explained the story. Within a minute the copper's hands seem to relax, he came over to me and said, "you do realise we're in marijuana country? When you get a call like that about a crazy guy running down the highway with a baby, you think it's true."
After a few more minutes of chatting, the policeman's partner turned up in another car. His partner got out of the car and came over to talk to me as well: "You have to get off this highway and the quickest way is to run a mile back and then take that road." he said, pointing at a road nearby that was running alongside the main highway but separated from us by a massive wire fence.
They must have seen the look of disappointment on my face and I felt I had to explain why that extra mile made my heart sink so much, "I'm sure this might be hard to understand, but that's an extra two miles on today's run. I'm fairly broken already and doing an extra two miles off route would finish me off. Is there any other way?"
The first copper looked at me sternly and said "The only way is to go back. I'm sorry."
Then I had a bright spark idea "How about I empty my buggy so it's as light as possible and then we haul him over that big fence onto the other road? Then I don't have to back track."
Both coppers looked at each other and said, "I don't have a problem with that!"
The coppers helped me haul Caesar over the fence, which wasn't too tricky, and it only took a few minutes. I was sooo happy.
Before leaving, the first copper said, "I totally get what you're doing man. I used to run back in high school."
Running on away from the coppers, I felt something get a bit easier in my running stride – I had a spring in my step. They actually cared, and I think that's what gave me the spring.
By 10:30pm, having run 19 miles I stopped at a garage to ask a guy if he knew where a good camping spot was. He introduced me to his girlfriend who knew the area, but she couldn't help.
During that time, I'd been chatting the guy about what I'd been eating and he went into the back of his car and pulled out a bag full of fish and said, "here you go maaan, enjoy. I'm a music artist you know? I get you doing something because you're passionate about it. Anyhow, enjoy the fish" And then he dished out a fist pump before I left. Very random and very, very lovely.
Running on, loaded up with fish and a fist pump, I found a derelict building a mile further on down the road, so I went behind it. It was a little bit away from the road, so I rolled out my mat and decided not to set up my tent. It seemed warm and dry, and simple enough just to sleep outside.
As I got tucked up on my sleeping mat at 12:15am, I was all settled and comfortable, ready to drift off to sleep when I remembered that I didn't roll my legs out (giving them a massage). So I gave myself a talking to 'come on, you've dogged it out all day, don't get lazy now.'
I pulled up the rolling stick and pushed hard on my legs to release all the tension. 'Pain today, saves pain tomorrow' I told myself.
After rolling my legs to a pulp I finally drifted off to sleep with a cool breeze across my face.
Today wasn't a pretty run, not all days can be pretty, but it's another day down all the same.
By morning, the sun came up and shone on me. I pushed Caesar in front of the sun, so I managed to drift off for another 30 minutes. That's until a group of Mexican painters and decorators were watching over me, looking at me like I was some kind of bum – so I thought I'd pack up and move on.
Whilst in the Taqueria Jalos Cafe, I asked for the best Mexican breakfast.
What arrived on my plate was a standard dish – beans, rice and peppers. What I didn't see coming was that it was as hot as a vindaloo.
It was 8 freaking AM!
I've never felt spice like it and of course, being a polite Brit, I didn't want to let the waiter down, so I fired it into my belly.
After spending the day there, when it came to the bill, Bianca the waitress said as quiet as a mouse, "you don't need to pay, my brother paid for your food, and this is a little donation from me. It's not much but it's amazing what you're doing for our kids."
Bianca only worked for a few hours, and it was a 25-dollar donation. My hunch was that was probably all her tip money. I was so blown away by her quite voice and huge heart.
All fuelled up, my belly was a little dodgy from the spicy food, but I was more fuelled on their Mexican kindness.
Running on barely two hours of sleep, I floated along feeling fairly weird and in a day dream state.
After five miles, I hit the major highway and remembered that the police said, "don't travel on it!"
Checking Google Maps, I realised I'd have to run two miles back to take another road. That would mean an extra four miles of running today for absolutely NOTHING.
As my brain processed it, I let out an angry scream. There were people looking at me and I didn't care.
Running back, I just couldn't let the mistake go. Mentally, it was torturing my insides.
Eventually, I hit the road that runs parallel to the highway on some vineyards with the odd tin windmill that looked like it was something out of the Little House on the Prairie.
Trying to enjoy the quiet beautiful roads, I couldn't, as I was still angry at myself for forgetting to look ahead and added to that, half my face was on fire and my nose was streaming super-snot. I've had hay fever before, but this was a whole new league. It was streaming so much out of my nose that every two minutes, I'd flick my cape around as a super-snot-rag.
I could feel my body going into a flu-type situation. I wasn't sure if it was sleep deprivation or it was from losing half my body fluid out of my big shnoze.
As it neared darkness, I battled with stopping to set up camp early or to continue on to the town of Hopland 10 miles ahead where apparently, they have a motel.
I couldn't seem to make a decision.
When Googling the motel in Hopland, nothing showed up. I lost my motivation to continue but just kept running.
I even put out a tweet asking for people to research if they could find this motel in Hopland.
From tweets back, it turns out there was no bed in the town.
Eventually I cracked and told myself 'come on, there's no need to stop. You can do this. Just keep running to Hopland. Every mile is important.'
As the darkness set in, it became very peaceful and I began to enjoy the tranquillity of the night – a second wind kicked in.
There were two shimmering clouds that crossed the entire sky from two planes that would have flown through. It was stunning.
Every two minutes, the bushes would rustle. I'd turn my headlamp on and it would be a deer being startled. Luckily, no bear or cougar in site.
By mile 23, I'd arrived into Hopland. I found a bush to set my tent up in and crawled in pretty much broken, but alive.
I felt truly alive and embracing of everything life had to throw at me. And for that, as challenging as it is, I wouldn't change it for the world!
As I woke up in my tent the next day – snotty, sick and sleep deprived – I just didn't know how I was going to run for the day.
With the sun hitting the tent, I had no choice but to get out as it was far too hot to stay in it.
Getting out of the tent, I parked myself under a tree with a gentle breeze, and led there all day catching up on social media – wondering how I was going to move from my aching body.
From the tree, I crawled over to eat lunch at The Golden Pig, where I ate a salad along with a butternut soup, craving vitamins to heal. The waitress, Jessy, covered my bill. And she works three jobs too, which was just darn lovely.
All vitamined up, I began running and took a road off the four-way highway (it's illegal to run on it) to keep the police happy.
As I hit the road though, something was telling me to get back on the highway. The road went up. It was so steep, and I couldn't see where the road ended.
With no energy in any part of my body, I felt like now just wasn't the time to climb a mountain.
After seven miles, going up, up and up, the mountain came true.
My arms were so tired, I had to push Caesar using my elbows.
I eventually made it to the top and spotted a house (the first house I'd seen on that days run so far) and a lady doing some gardening asked what I was doing.
The next thing, her two friends came out to give me water and some sweet strawberries.
After our chit chat I ran off and one of them shouted, "but where is your cape? You're supposed to be a superhero?"
A few hours before, I took my cape off because it was too hot.
So to not let them down, I whizzed it back on and then they all let out a huge cheer, like I was on one of the Tour de France mountains.
With a bit more energy, I began descending, my legs opened up and I let Caesar pull me along while my feet pounded each step to slow him down.
Going downhill steeply with Caesar is a struggle – but he is one of my best mates, so I'll refrain from badmouthing him too much.
Landing into Cloverdale, mama bear Maggie Peace sorted me out a hotel room for the night.
My hunch is that she noticed from my social media posts that I'm so sleep deprived and unwell that a room would help – and she was so right! I crashed out on the bed and slept for 10 hours straight.
Waking up – though the sleep was incredible and much needed – I felt even worse. My body ached more and everything that came out of my nose and mouth was now an infected green colour.
Although unwell, I had to run on because I had planned to stay with a British family, who moved out to American 25 years ago and I didn't want to let them down.
So I slipped my barefoot running shoes on and started thudding away – my legs and feet felt way heavier than normal.
To make things worse, at mile 10 I needed the loo (a number two to be specific!) and this was a moment of 'when you gotta go, you gotta go' especially feeling sick as a dog.
And of course, I was on a road that was totally fenced off on both sides and nowhere to go, or hide! NOWHERE!
So I kept running, clenching and just hoping something, actually, ANYTHING, would come up!
Then I saw it, a ditch with a bush. The bush had just enough leaves, and was low enough that people wouldn't see me, so I threw myself into it – which was a big mistake!
There was a rotting possum (that looked like a hug rat)!
It stank so bad that I considered running on, but it was all too late. I'd mentally 'let go'.
As I was sat there, I kept dry retching from my stomach. I was already feeling sick anyhow, now I had an even more reason to throw my guts up.
After all that, I was glad to be back on the road running in the fresh air.
Feeling terrible, each mile felt like an achievement so when stopping in a little shop for water, I spotted they had sparkling water in a fancy glass bottle of San Pellegrino – the bubbles made me think of a celebration!
For my first mile achieved, I stopped and poured myself a glass of bubbly.
The sensation of it going down my throat was incredible.
Each mile passed, and with it five sparking celebrations, until a surprise happened.
I was tracked down by Chip and Kevin from Healdsburg Running Company to give me a beer on the side of the road and a whole cheesecake (it was supposed to be for their friend's birthday cake but thought I'd make much better use of it!).
Chip also showered me with other gifts, including compression socks and Squirrel's Nut Butter to help with chafing.
Still hanging out with Chip at 10:30pm, Jonika and Steven turned up who were hosting me that night.
Jonika had this worried look on her face but said, "we found you! Your tracker stopped so we thought we should come and find you! Actually, I was really worried about you and that's why we're here!"
You could see, Jonika had that worrying mama bear gene thing going on for sure.
Running onto my night stay with the British couple, Jonika, who hasn't run in years, joined me for the last mile into their home.
At 12:30am, though I didn't feel overly hungry, they cooked up marinated soy vay flank steak strips, and tons of veggies which was everything I knew I needed and actually really enjoyed, despite not feeling hungry.
Over the past two days, I've covered over 40 miles and it's been really tough feeling unwell, but 40 miles can still be taken away from 6,000 – so let's celebrate!