Treadmill World Record
for the greatest distance covered on a treadmill within one week
Adventureman, breaks yet another World Record
Inspirational speaker, Adventureman, covered the most amount of miles on a treadmill in 7 days, running 524 miles – that's 3 marathons a day.
What: Adventureman broke the world record for 'the greatest distance covered on a treadmill within one week'
When: From 1pm, Monday 29th April 2019 – 1pm, Bank Holiday Monday 6th May 2019
Where: Merchants Square, Gloucester Quays, United Kingdom
Old record: The greatest distance run on a treadmill in one week is 513.97 miles (827.16km) and was achieved by Marcio Villar (Brazil) at the Américas Shopping in Rio de Janeiro, Brazil, from 28 June to 4 July 2015
New record: Jamie managed to reach 524.4 miles (843km) beating the record by 10.30 miles
Charity: a whooping £61,000 was raised for Superhero Foundation, a charity that supports sick kids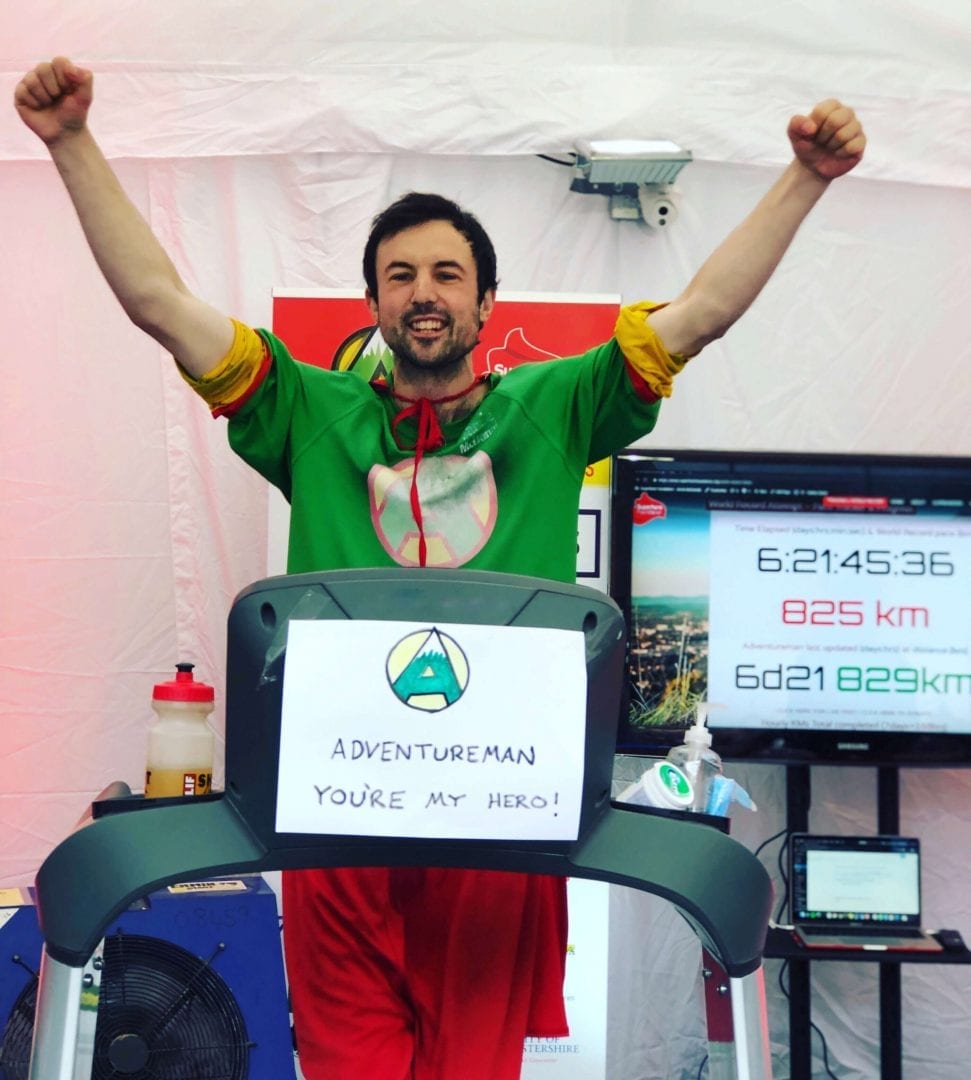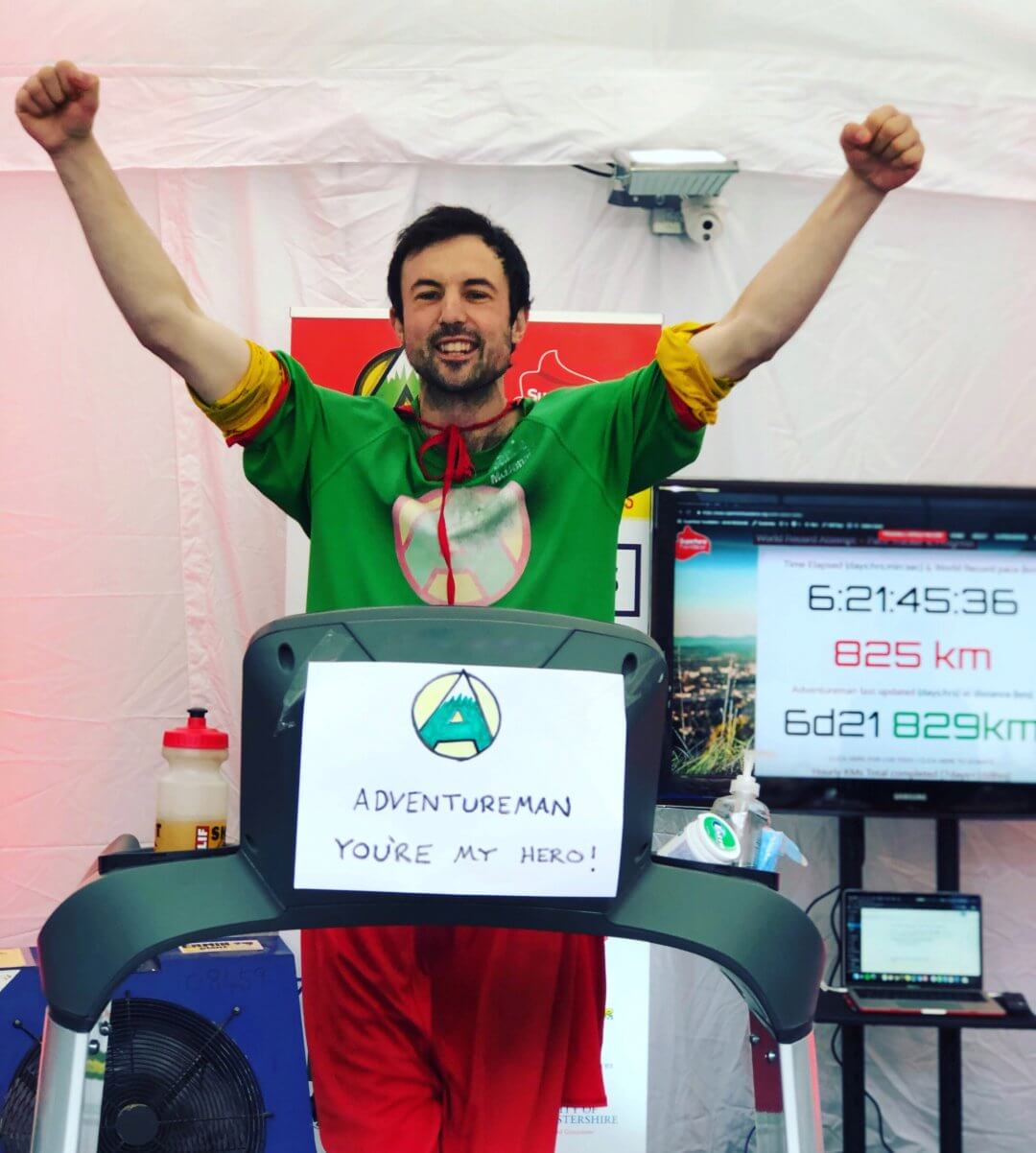 Jamie McDonald said,
"This challenge was something that I've never experienced before. The pain was so excruciating that I cried on many occasions throughout the week long challenge. Trying to run more than three marathons a day, on less than three hours of sleep a night – was beyond what I thought was possible.
"On day five, my ankles where so swollen they looked like the size of elephant ankles. I began hallucinating and I honestly wasn't sure if I'd make it. Though having all my hometown supporters turn up, literally thousands of people cheering me on, lifted my spirits like nothing I've ever felt before. 
"As I broke the record, tears rolled down my face with pride as I seen some of the families we'd helped over the years with the charity. As just a normal bloke and breaking one of the toughest world records on the planet, I wanted this to be a platform to show people, even sick kids across the world, that we really can achieve anything we put our minds to if we try."
Adventureman's story:
Jamie, from Gloucester, England, spent the first nine years of his life in and out of hospital with a rare spinal condition; syringomyelia. Combined with a very weak immune system and epilepsy, Jamie's health was very poor – his family feared he might lose his mobility altogether. At nine years old, and against the odds, his symptoms eased, allowing Jamie to slowly become more active.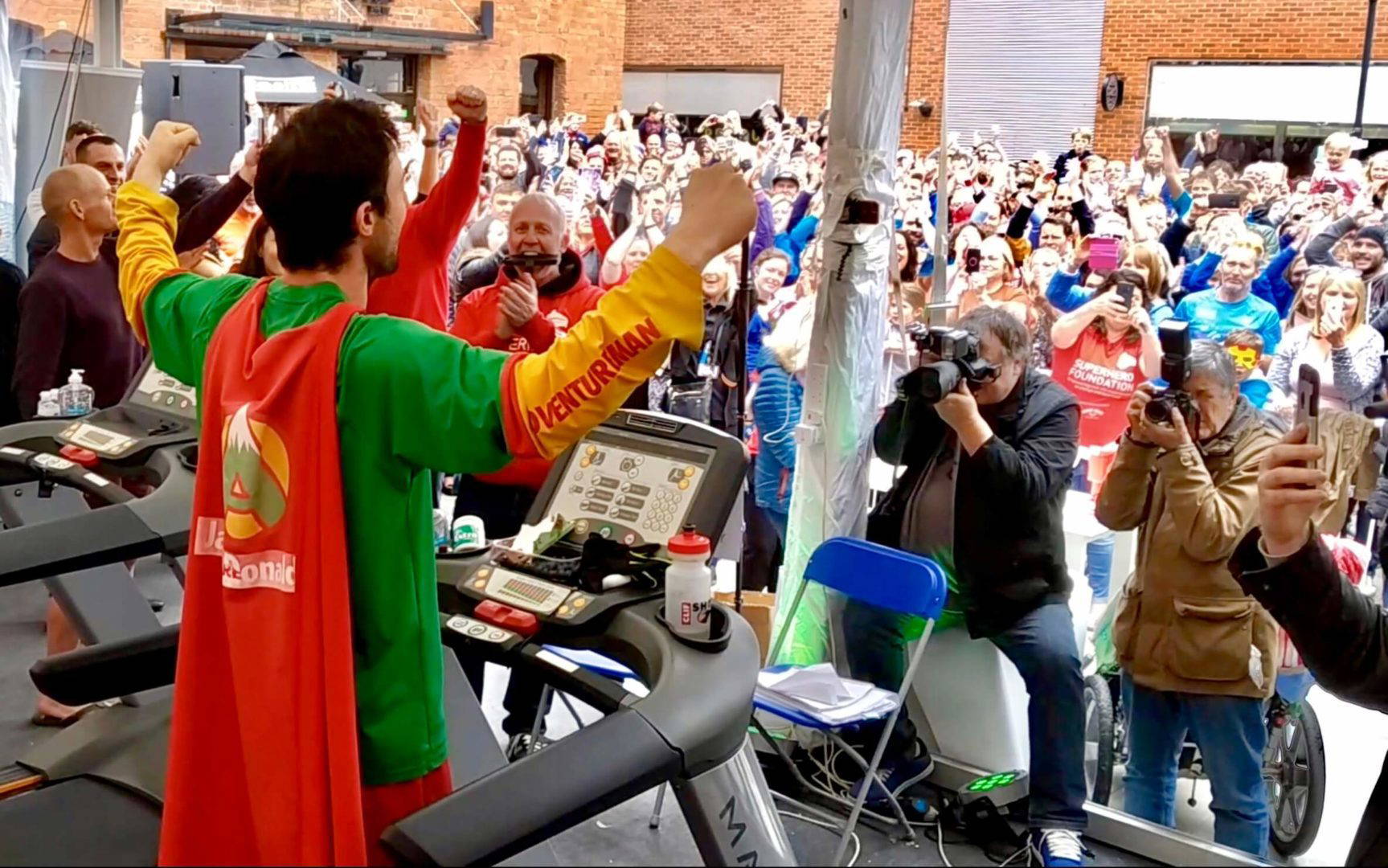 Before the treadmill world record:
On the 10th April 2018, Jamie completed his second coast-to-coast solo run without a support crew, from the westernmost point of the United States – Cape Alava in Washington. Jamie ran as his alter-ego Adventureman, in just one specially-made superhero costume designed by young supporter Conner Reddy, then just 10 years old. Jamie ran more than 200 marathons in less than a year, doing more than 11m steps according to his tracking watch since the beginning of the adventure. Jamie's global goal is to ensure no child goes without treatment they need but can't access or afford. During which, he raised nearly $200,000 for kids hospitals on route.
For the last four years, Jamie, now 32, has been working tirelessly to give back. He was named as the Pride of Britain 'Fundraiser of the Year' for the west for his effort, among many other accolades.
In the time since his last adventure, Jamie has co-founded Gloucestershire-based Superhero Foundation, a charity that grants money to families for treatment not otherwise available on the NHS. He has also written the best-selling book 'Adventureman: Anyone Can Be a Superhero', the story of his life to this point – no mean feat for somebody that struggles with dyslexia, and retook his GCSEs aged 23.
This video tells you more about Jamie: